City Nature Challenge Bio Blitz
Saturday, 04/29/2023-, 10:00 am-02:00 pm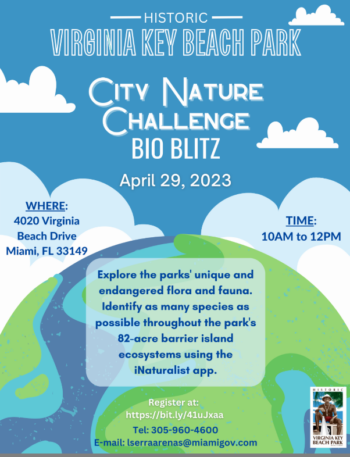 Historic Virginia Key Beach Park
4020 Virginia Beach Drive,
Miami, Florida, 33149
Website
Cost: free
The Virginia Key Beach Park event offers an incredible opportunity to explore and appreciate the unique and endangered flora and fauna that are found in the 82-acre barrier island ecosystems of the park. With the help of the iNaturalist app, participants can identify as many species as possible throughout the park.
As you explore the park, you'll have the chance to see a diverse range of plant and animal species that are native to the area. Some of the plants you might encounter include sea oats, beach sunflowers, and sea grapes, while some of the animals that call the park home include ospreys, great blue herons, and diamondback terrapins.
Using the iNaturalist app, you'll be able to take photos of the plants and animals you come across and upload them to the app for identification. Not only will this help you learn more about the different species you're seeing, but it will also contribute to a growing database of information about the flora and fauna of Virginia Key Beach Park.
Overall, the Virginia Key Beach Park event is an excellent opportunity to explore and learn about the natural beauty of the park while contributing to important conservation efforts. Whether you're a seasoned naturalist or just someone who loves spending time in nature, this event is not to be missed.