Nucleus Presents "Psychedelics and Mindfulness" During Psychedelic Series
Tuesday, 05/02/2023-, 07:00 pm-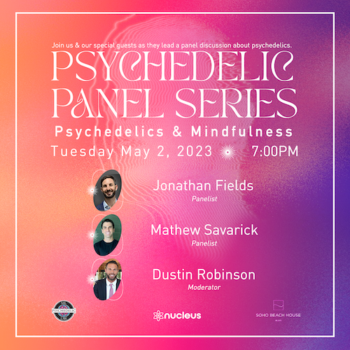 Soho Beach House Miami
4385 Collins Ave.,
Miami Beach, Florida, 33140
Website
Cost:
Nucleus, a venture studio for psychedelics wholly owned by Iter Investments, will present its monthly Psychedelic Series at Soho Beach House Miami on Tuesday, May 2, at 7 p.m. Moderated by psychedelics expert Dustin Robinson, Esq. CPA, panelists include Acupuncturist Dr. Jonathan M. Fields, DAOM, and Performance Coach Matthew Savarick. The panel will discuss psychedelics and mindfulness.
Dr. Fields is a renowned acupuncturist, published author, visual and martial artist, public speaker and plant medicine advocate. He owns two clinics in South Florida – Integrative Medicine US and CR8 Health – where he specializes in functional medicine, autoimmune, digestive, and mental and women's health. He lectures at universities and Fortune 500 companies, works with elite pro athletes and celebrities and hosts retreats. He has also formulated for publicly traded companies. Most recently, he was one of the clinicians that contributed to the 9th Circuit court appeal to the DEA to reschedule psilocybin and has been speaking out at some of the leading platforms in the industry.
Savarick is an active investor, entrepreneur, philanthropist, and performance coach who works with individuals and companies to catalyze personal and organizational change. Also known as Coach Matt, he is considered to be one of the premier performance and mindset coaches in the U.S. and has coached and advised start-up founders, Fortune 500 executive teams, professional athletes, celebrities, artists, political figures, and, often, their families. Savarick brings a broad senior executive portfolio to his coaching practice with leadership positions spanning sales, marketing, customer success, operations, learning, and development.
Robinson is Founding Partner of Mr. Cannabis Law – a full service law firm focused on the cannabis and psychedelic industries; Co-Founder of Mr. Psychedelic Law – a non-profit focused on psychedelic legal reform; Managing Principal of Iter Investments – a venture capital firm deploying capital across the psychedelic ecosystem; and Co-Founder of Nucleus – a platform with various tools to help guide individuals on their mental health journey.
Launched in June 2021 by Robinson and visionary leader Sam Baum, the Psychedelic Series features experts in the psychedelics space including CEOs, doctors, lawyers and celebrities. The panel started at Soho Beach House Miami and expanded to locations throughout the country including New York, Chicago and California, as well as internationally in London and Amsterdam. Past panelists include MAPS Founder Rick Doblin, NBA champion Lamar Odom, Psilera Bioscience CEO Chris Witowski, PhD, Silo Wellness CEO Douglas K. Gordon, and others.
The event is private and only open to Soho House members.