Free TPS Assisance
Thursday, 11/17/2022-11/18/2022, 08:00 am-08:00 pm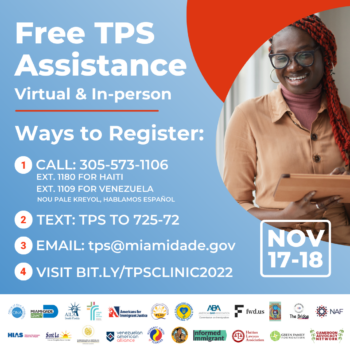 The Office of New Americans
601 NW 1st Court #116,
Miami, Florida, 33136
Website
Cost: FREE
The Office of New Americans of Miami-Dade is hosting FREE monthly Virtual TPS Clinics for Venezuelan and Haitian community members. Get your questions answered and assistance with filing out your forms. Available in English, Spanish and Creole.
Temporary Protected Status (TPS) gives permission to live and work in the US for immigrants from specific countries deemed by the Department of Homeland Security (DHS) as unsafe for them to return to. Even if you have asylum status pending or have Deferred Enforced Departure (DED) work authorization, we encourage you to apply for TPS.
These TPS Clinics are made possible with the support and partnership of Catholic Legal Services, Americans for Immigrant Justice, the American Immigration Lawyers Association, HIAS, Sant La Haitian Neighborhood Center, Florida Immigrant Coalition, ABA Commission on Immigration, Venezuelan American Alliance, Hispanic Unity of Florida, Family Action Network Movement (FAMN), the Venezuelan Embassy, Haitian Lawyers Association, Cameroon Advocacy Network, Haitian Bridge Alliance, Green Family Foundation, and Miami Worker Center.
---
About Office of New Americans of Miami-Dade
The Office of New Americans is a countywide initiative to raise awareness about the importance of citizenship. Its mission is to empower immigrants eligible for naturalization to become more civically and economically engaged in our communities by facilitating access to the resources they need to attain citizenship and to prosper.