Dirty Dancing 35th Anniversary Screening at Rooftop Cinema Club South Beach
Thursday, 08/18/2022-, 07:15 pm-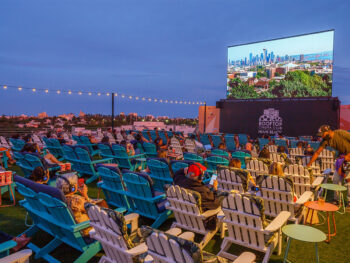 Rooftop Cinema Club South Beach
1212 Lincoln Rd,
Miami Beach, Florida, 33139
Website
Cost:
Requiring social distancing? NO REPLY
Requiring masks? OPTIONAL
Providing hand sanitizer? YES
Nobody puts baby in a corner!" Have the time of your life at this special 35th anniversary screening of the summer romance classic at Rooftop Cinema Club South Beach.
ABOUT ROOFTOP CINEMA CLUB
The ultimate open-air cinema experience, Rooftop Cinema Club, started as a single rooftop in London's Shoreditch in 2011 and has expanded globally with two rooftop venues in the UK and eight across the U.S. in Los Angeles, New York, San Diego, Houston, Chicago, and Miami. The theater is known for bringing a social experience to movie showings of famed classics and newer releases accompanied by theater snacks, a full food menu, and specialty cocktails. Named "the masters of al fresco rooftop movie viewing" by Time Out, Rooftop Cinema Club's locations immerse you in the heart of their respective city for unmatched views of the skyline during afternoon, sunset, and nighttime showings. Rooftop Cinema Club was founded by Gerry Cottle, son of the famous Circus owner of the same name, who took his experience in entertainment with Cirque Du Soleil, Amnesty International, Disney, and Girls Aloud and paired it with his passion for film to create the Rooftop brand.