YouFit Gyms Launches Globetrotters Walking Club For Seniors
Monday, 06/06/2022-, 07:00 am-09:00 pm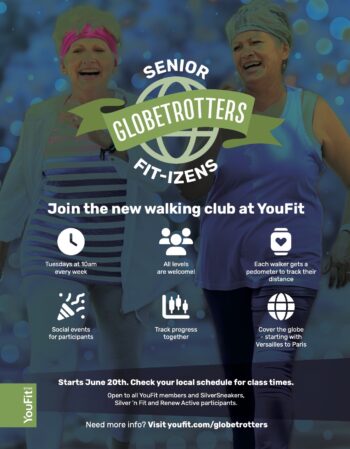 YouFit Gyms
YouFit Gyms,
multiple locations, Florida, check youfit.com for locations
Website
Cost: Open to YouFit Members, Silver Sneakers, Silver'n Fit and Renew Active participants
Requiring social distancing? NO
Requiring masks? NO
Providing hand sanitizer? NO
On Monday, June 20, 2022 YouFit Gyms launches a walking club just for seniors Globetrotters as part of their Senior Fit-izens program.
Providing a way for Seniors to stay physical while providing a healthy, fun experience that allows for social interaction with others that can help improve their mental fitness, Globetrotters participants will take a "tour of the globe" as they will walk the equivalent of the distance from Versailles to the Eiffel Tower and the Grand Canyon.
Each participant receives a YouFit pedometer to keep and track their miles throughout this "summer travel" journey. They will also have the opportunity to log their miles walked on a "passport" that will be available at 33 participating YouFit locations with rollout anticipated at more locations throughout summer. Globetrotters will be open to YouFit Members as well as Silver Sneakers, Silver'n Fit and Renew Active participants.