Sips N' Selfies Lincoln Eatery Anniversary Party
Saturday, 01/29/2022-, 06:00 pm-08:00 pm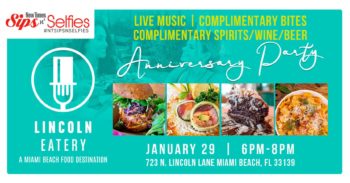 The Lincoln Eatery
723 N Lincoln Lane,
Miami Beach, Florida, 33139
RSVP / Register
Cost: FREE
Requiring social distancing? NO REPLY
Requiring masks? NO REPLY
Providing hand sanitizer? NO REPLY
Come join The Lincoln Eatery's Sips N' Selfies Anniversary Party on Saturday, Jan. 29 from 6-8 p.m. for complimentary cocktails and lite bites. Co-hosted by the Miami New Times, guests will mix and mingle while enjoying free food and drink to celebrate another year with Miami Beach's best food hall. Features include a frozen lemonade stand, drink specials, tastings, live DJ sets, and special guest performances such as local talent Yoli Mayer ("America's Got Talent" 2017).
The Lincoln Eatery has brought together a total of 16 fast-casual, artisan and grab-&-go concepts in a space that reflects the fast-paced vibe emerging in Miami Beach's expanded Lincoln Road district.
Whether you're a local foodie looking for a quick bite or visiting from out of town and craving an authentic Miami Beach experience, The Lincoln Eatery has something for everyone and is the destination to meet, eat, drink and relax in Miami Beach.
21+ only.