A Night Under the Stars at Everglades National Park
Saturday, 01/22/2022-01/23/2022, 12:00 pm-10:00 am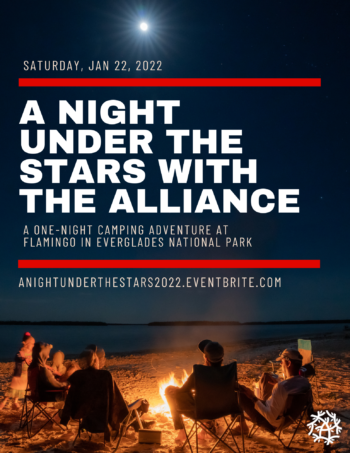 Everglades National Park
1 Flamingo Lodge Hwy,
Homestead, Florida, 33034
Website
Cost: $25-50
Requiring social distancing? NO
Requiring masks? NO
Providing hand sanitizer? YES
Our annual camping event is back and better than ever!
Join us again as "A Night Under the Stars" returns in-person or boldly go where you've never gone before if this will be your first time camping at Flamingo. We welcome experienced campers and newbies alike!
Food and refreshments will be provided for Saturday dinner and Sunday breakfast, with special presentations from the rangers of Everglades National Park taking place throughout your time with us. We'll also be hosting a special arts & crafts station for our younger campers.
This event supports the ever-expanding range of programs that The Alliance for Florida's National Parks supports throughout Everglades, Biscayne and Dry Tortugas National Parks, as well as Big Cypress National Preserve.
Each year, The Alliance funds around 20 programs ranging from youth environmental education and exploration to preservation and restoration. Read more about these programs on our website at www.floridanationalparks.org.
Tickets are $50 per adult and $25 per child under 12 years old, which includes your campsite and food and refreshments for Saturday dinner and Sunday breakfast.
Ticket sales directly support The Alliance for Florida's National Parks and the programs that it implements to keep Florida natural, wild, and accessible.
This event is sponsored by Professional Bank.