Hero's Journey – Tuning Into Our Collective Unconscious
Thursday, 12/02/2021-, 01:00 pm-03:00 pm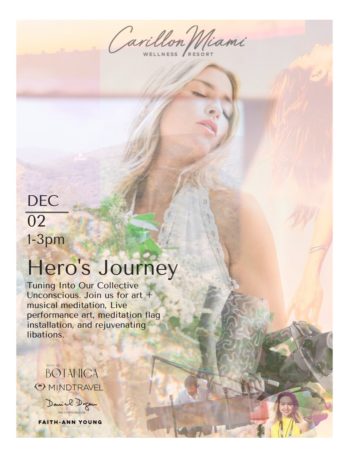 Carillon Miami Wellness Resort
6801 Collins Avenue,
Miami Beach, Florida, 33141
Website
Cost: Free
Requiring social distancing? NO
Requiring masks? OPTIONAL
Providing hand sanitizer? NO
The events of the last two years have affected each individual in profound ways – and as we gather here at Miami Art Basel in 2021, this group exhibit seeks to provide space to confront the Hero's Journey we all have been through during the last two years and to unite our collective consciousness. Each featured artists' work addresses this ancient narrative arc in its own way – provoking us to reflect on our unique journeys of loss, grief, love, fear, changes, and healing. Collectively, the works seek to tune our collective unconscious, create space to unite and reflect on this time, and remind us that challenges help us actualize our higher potentials and transform us for the better.
Murray Hidary is a multi-disciplinary artist, musician, and tech pioneer, who creates provocative, improvisational, real-time MindTravel live piano performances, which take listeners on a deep inner journey through sound. He will be performing live for this event and exhibition, providing a transformational platform for us to experience this art, time, and space.
Los Angeles-based artist Kelley Anderson of Art Botanica has created a large-scale botanical installation 'Love Knot', which reinforces the importance of love over fear and love as the most powerful tool for healing. "The journey of Love takes twists and turns, often unexpected, but always returns back to Love, because "Love is the only truth."
Daniel Dugan will be doing live performance art in which he creates art using "one continuous line" that never intersects and is equally spaced. Like labyrinths from centuries ago, the function is a spiritual one: to quiet the mind and wander forward through the path, knowing you will ultimately reach the end. Each work represents the flow of life with its unexpected twists and turns, each adding an unexpected value and balance.
Half-Japanese, Los Angeles-based Faith-Ann Young hangs large-scale 'flags' – photo collages printed onto various fabrics, in formations, and in the open air, to create colorful, transcendent spaces where humans can gather, engage and reflect. Her flag series, Cycles of Life, features a series of archetypes, symbols, and colors, provoking views to walk through, interact and embark on their own, unique transcendent journey within.