Broward Metropolitan Planning Organization State of the Region Annual Awards
Friday, 11/19/2021-, 11:30 am-01:30 pm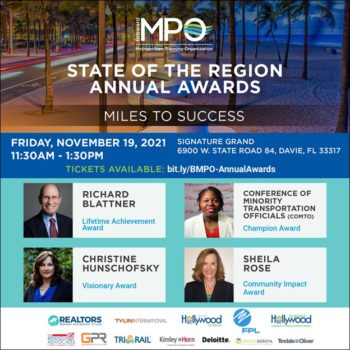 Signature Grand
6900 W. State Road 84,
Davie, Florida, 33317
Website
Cost: Luncheon tickets are $70 per person or $700 per table.
Requiring social distancing? NO REPLY
Requiring masks? NO REPLY
Providing hand sanitizer? NO REPLY
Broward Metropolitan Planning Organization will celebrate the impact of its significant role to plan and direct transportation and infrastructure projects throughout the region and honor those who advocate for smart planning and connectivity during the first annual State of the Region Annual Awards. This inaugural event will coincide with the release of the Broward MPO's annual report, sharing success stories from a challenging year. The luncheon will take place from 11:30 a.m. to 1:30 p.m. Friday, November 19, at the Signature Grand in Davie.
Former Hollywood Commissioner and immediate past Broward MPO board chair Richard Blattner will receive the Lifetime Achievement Award. The Champion Award will be presented to the Conference of Minority Transportation Officials (COMTO), Fort Lauderdale Chapter. The Visionary Award will be presented to Florida House of Representatives member Christine Hunschofsky [D-96]. Deputy City Manager Sheila Rose will be honored with the Community Impact Award. Special guest host for the luncheon is Jacey Birch, morning news anchor for WPLG Local 10 and featured speaker Anant Dinamani from Deloitte Consulting.
The event is sponsored by the City of Hollywood/Hollywood Community Redevelopment Agency; Florida Power & Light Company; T.Y. Lin; Broward, Palm Beaches and St. Lucie Realtors; Kimley Horn; South Florida Regional Transportation Authority/Tri Rail; Tindale Oliver; Goodman Public Relations; the Downtown Transportation Management Association; The Brand Advocates and Weiss Serota Helfman Cole & Bierman.
Luncheon tickets are $70 per person or $700 per table. To reserve tickets, please visit https://bit.ly/BMPO-AnnualAwards.