25th Annual History Fort Lauderdale History Makers Fundraiser Honoring The Denison Family & Marine Industries Association of South Florida
Saturday, 10/30/2021-, 06:30 pm-08:30 pm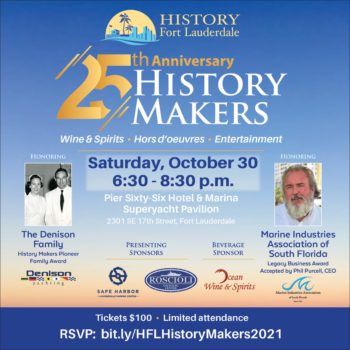 Superyacht Pavilion at Pier Sixty-Six
2301 SE 17th Street,
Fort Lauderdale, Florida, 33316
Website
Cost: $100 (online service charges not included); Tickets are limited.
Requiring social distancing? NO REPLY
Requiring masks? NO REPLY
Providing hand sanitizer? NO REPLY
History Fort Lauderdale, proud steward of our community's past by making our heritage accessible and engaging to residents and visitors, has set the date of Saturday, October 30, at 6:30 p.m., for its 25th annual History Makers fundraiser at the Superyacht Pavilion facility on the south grounds of Pier Sixty-Six Hotel & Marina (2301 SE 17th Street in Fort Lauderdale). The special event, taking place during this year's Fort Lauderdale International Boat Show, will honor the Denison Family (Denison Yachting), Broward County yachting industry forerunners, with a History Makers Pioneer Family Award and the Marine Industries Association of South Florida (MIASF) CEO Phil Purcell will accept a Legacy Business Award for the organization's 60+ years of industry and service at the event that commends individuals and companies who have made an impact on the growth of the City of Fort Lauderdale.
Denison Yachting (formerly Broward Marine) and its workforce were largely responsible for much of the marine industry that developed over the course of their 50 years of yacht construction that started on the south fork of the New River in Fort Lauderdale. In 1948, on their honeymoon, Frank and Gertrude Denison decided to buy a boat yard on the New River and shortly, thereafter, became the largest employer in Broward County, as well as the largest defense contractor in Florida. The contracts they secured for the construction of US Navy minesweepers during this time period led to the construction of large motor yachts. The Denison's yachting business, launched in the early 1950s with the construction of the largest yacht built in the US, post WWII, the ALISA V, eventually led them to become most prolific large yacht builder in the world in 1993. The first of only two yacht builders in the US to have received this recognition.
The Marine Industries Association of South Florida (MIASF), now celebrating its 60th anniversary, is the largest marine trade organization in the Southeast United States. It is dedicated to promoting, protecting, and growing the 111,000 middle class jobs in Broward County and 142,000 jobs regionally in marine businesses promoting boating lifestyles from family cruising and fishing to yachts and the goods and services that sustain them, driving the economic output to $8.9 billion in Broward County and $12 billion regionally. Created in 1961, the nonprofit trade group is focused on the sound growth of the marine industry in the South Florida Region to benefit its members, their customers, communities and the environment. The Association has over 500 members in Broward, Miami-Dade, and Palm Beach Counties and is the owner of the Fort Lauderdale International Boat Show. Through the Fort Lauderdale International Boat Show, advocacy efforts, programs and services of MIASF have combined to raise the professionalism of the industry and awareness of its impact and contributions by the public, elected, and regulatory officials at the local, state, and federal levels. Members have fostered a reputation for the region to be known as the goods and service center of the world for the yachting and marine community.
Previous History Maker honorees have included The Forman Family, "Alligator Ron" Bergeron, City Commissioner Steven Glassman, developer Dev Motwani, H. Wayne Huizenga, Chris Evert and Jimmy Evert, The Sun-Sentinel, Winterfest and Susan and Buddy Lochrie.
History Fort Lauderdale's 2021 History Makers fundraiser is presented by Safe Harbor Lauderdale Marine Center, Roscioli Yachting Center and Ocean Wine & Spirits. It is sponsored at the platinum level by Bradford Marine, Rick Case Automotive, Informa Markets and Tavistock with additional support from Hudson Family Foundation, JM Family Enterprises, Inc., Lank Oil, Lauderdale Marina, Lawless, Edwards & Warren, Rybovich, Tripp Scott, Derecktor, Gray Robinson, Westport Yachts, International Yacht Brokers Association, Merrimac Ventures, Engineered Yacht Solutions, Westrec Marinas, J.R. Dunn, Alley, Maass, Rogers & Lindsay, P.A., Teakdecking Systems, Nautical Structures and Moore & Company.
Tickets for this year's 25th anniversary History Makers fundraiser are $100 (online service charges not included) and can be purchased online at https://bit.ly/HFLHistoryMakers2021 or via email at info@flhc.org. Tickets are limited.
For more information about History Fort Lauderdale, please call (954) 463-4431 or visit us online at historyfortlauderdale.org. Follow us on Facebook at facebook.com/ftlhistory on Instagram @ftlhistory and on Twitter at @FTLHistory.