Peter London Global Dance Company Touch and Rain on Me
Tuesday, 12/28/2021-12/31/2021, 07:30 pm-09:45 pm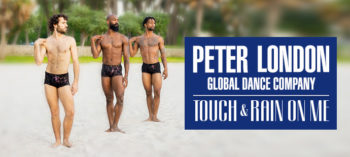 Adrienne Arsht Center for the Performing Arts – Carnival Studio Theater
1300 Biscayne Blvd,
Miami, Florida, 33132
Website
Cost: $44-$53
Requiring social distancing? NO
Requiring masks? YES
Providing hand sanitizer? YES
Opening night on December 28 will feature an abbreviated, 75-minute performance.
Miami's leading multicultural, contemporary-dance ensemble, Peter London Global Dance Company (PLGDC) is set to premiere TOUCH and RAIN ON ME, works created during the height of the pandemic. PLGDC created a contemporary, Afro-Caribbean dance-fusion compilation showcasing the struggles many people faced throughout the pandemic.
The pandemic evicted us from our daily "normal." We witnessed home evictions. We experienced eviction in our personal and intimate relationships. And activities involving touch became a threat to health and life. The pandemic brought separation from careers, income, businesses, creativity, worship and play, while looming over the community like an unbeatable giant, like a David and Goliath standoff. The great outdoors of beaches, parks, woodlands, etc., became more beloved and desirable for our health and well-being.
The world premieres of TOUCH and RAIN ON ME will have live accompaniment by the world-class Ballet and Dance Orchestra (BAD), with scores commissioned by PLGDC and composed by BAD founding artistic director Ezra Haugabrooks. The program includes world premieres by London, Brooke Logan, Gentry Isaiah George and Justin Rapaport.
These include Rapaport's "Start Again" and "Passing By," recipient of the Danish Dance Theater Award at the 14th Copenhagen International Choreography Competition and danced by Justin and Evan Rapaport.
The program also includes a world premiere by Jamaii Melvin set to music by award-winning international jazz star Nicole Henry, and a commissioned score by award-winning international jazz musician Ettienne Charles for London's new work, "Kalinda Wash."
Program:
THE STREETS:
During this time, it is estimated that there has been a significant increase in evictions from homes, exacerbating the crisis of the pandemic.
THE MIAMI DAVID: (Rafael del Vizo, Gentry Isaiah George, Aaron López, Leon Cobb):
The pandemic has forced people to self-quarantine and mandated lockdowns and the closing of public spaces. The pandemic stands like a Goliath against its victims. A seemingly insurmountable force and battle.
JOURNEY TO TEA: (Deja Darbonne and Aaron López)
The simple act of sharing tea or quality time with a loved one was suspended.
MY BROKEN HEART (Johnae Wright & Rafael del Vizo)
The inability to see loved ones, to touch or say goodbye has made their final transitions difficult and produced emotional trauma for many. Relationships broken, suspended, lost, sudden goodbyes forever.
KALINDA WASH (Kalinda; Jade McCartney. The river; Aaron López, Deja Darbonne, Gentry Isaiah George, Rafael del Vizo):
"Wash your hands." That is if you have clean water or water to spare to wash your hands. Water became more essential in the pandemic. "Kalinda" is the Indian (Sanskrit) word for the sun. Mythology has it that the Kalindi waters flows from the mountains of the Kalinda to the ocean. In this dance, we acknowledge the divine waters and the sun that is the source of our existence and renewal.