Making Strides Against Breast Cancer of Broward
Saturday, 10/23/2021-, 08:00 am-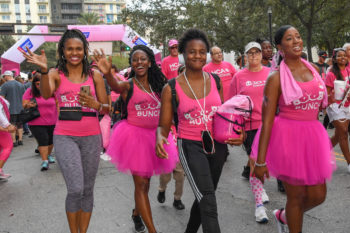 Huizenga Park
32 E Las Olas Blvd,
Ft. Lauderdale, Florida, 33301
Website
Cost: Free
Requiring social distancing? NO REPLY
Requiring masks? NO REPLY
Providing hand sanitizer? NO REPLY
Making Strides Against Breast Cancer® (MSABC) presented by Seminole Hard Rock Hotel & Casino – Hollywood is holding their Making Strides Walk on October 23, 2021, at Huizenga Plaza in Ft. Lauderdale. Making Strides has united communities, companies, and individuals across the country in the fight to end breast cancer for more than two decades. Michele Alter, a 21-year breast cancer survivor and Brittany Zinn, both with the Craig Zinn Automotive Group, are this year' co-chairs. The two are determined to make this a successful fundraiser. Organizers want everyone to know that even if a person cannot attend in person, the success of this event will depend on enthusiastic individuals who commit to raise funds, in addition to generous donors who will support those participants. The in-person event will keep federal, state, and local health guidelines in mind. As the fall season approaches, event-based decisions may be made to best meet the health and safety needs of everyone involved.
In 2020, Making Strides Against Breast Cancer of Broward conducted a drive-thru with 174 teams. The event benefited from the support of more than 1,000 participants, local businesses, and organizations, representing various industries. It ranked #1 in the State of Florida with a fundraising revenue of $429,000, and 7th overall of Making Strides Against Breast Cancer events in the US. The money raised went to breast cancer research and programs geared towards both men and women. According to the American Cancer Society journal, a Cancer Journal for Clinicians, there will be an estimated 1.9 million new cancer cases diagnosed in 2021 and 608,570 cancer deaths in the United States. That number may be higher given the COVID spike. It's believed that people with active cancer may be more susceptible to COVID-19, because of their impaired immune system. That's why the American Cancer Society® Fort Lauderdale wants people to start fundraising between now and October. People can fuel the fight against breast cancer by downloading the American Cancer Society FUNdraising App to their phones. This will allow people to register for the October event and begin asking
To register, go to www.MakingStridesWalk.org/BrowardFL to join the walk by signing up as an individual or team. Be sure to download the app to your phone and link the dashboard to Facebook. Fun Fact: Those that connect their fundraiser to FB, raise seven times more money.
To learn more about the Making Strides of Broward Presented by Seminole Hard Rock Hotel and Casino-Hollywood or for other information, call 1-800-227-2345 or visit www.MakingStridesWalk.org/BrowardFL. To contact your local American Cancer Society representative, please reach out to Trudy Spence at Trudy.spence@cancer.org or 954-331-3368, Monday through Friday during standard business hours. For the latest info, be sure to follow @BrowardMSABC on Facebook, @BrowardStrides on Instagram, @AmericanCancer on Twitter, and @BreastCancer on YouTube. Hashtags: #browardstrides, #MSABCbroward, #MakingStrides, #MakingStridesAgainstBreastCancer, #CancerSurvivor, #FundtheFuture.