Meet Cooper's Hawk Winery & Restaurants Chef Stephen Puhr In-person During Cooking with The Galleria LIVE – A Benefit for Heart Gallery of Broward County
Saturday, 08/28/2021-, 02:00 pm-04:00 pm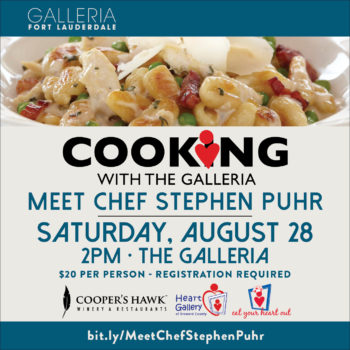 The Galleria at Fort Lauderdale
2414 East Sunrise Blvd.,
Fort Lauderdale, Florida, 33304
Website
Cost: $20 per person; space is limited for this special benefit
Requiring social distancing? NO REPLY
Requiring masks? NO REPLY
Providing hand sanitizer? NO REPLY
Cooking with The Galleria LIVE returns with an opportunity to meet Cooper's Hawk Winery & Restaurants' Chef and Senior Area Culinary Operations Manager Stephen Puhr on Saturday, August 28, at 2 p.m. This special culinary experience will benefit Heart Gallery of Broward County, a respected nonprofit organization committed to finding loving families for the hardest to place foster children.
A limited audience will take their gourmet cooking skills to the next level as Chef Puhr prepares Classic Tomato Bruschetta, Gnocchi Carbonara and Cooper's Hawk Berry Crisp. Then, attendees will sample this delicious trio while receiving tips on the perfect wine pairings.
For the past year, hundreds of thousands have enjoyed engaging cooking demonstrations virtually, as part of Cooking with The Galleria's free online series. The Galleria has provided educational and spirited culinary tutorials about how to prepare and serve delicious dishes including Filet Medallions and Parmesan Crusted Lobster Tails, Caramelized Grilled Sea Scallops, Bone-in, Dry-rubbed Pork Chop, Chilean Sea Bass, Gruyere French Omelette, Maryland Style Lump Crab Cakes, Seafood Paella, Shrimp and Grits and Carne Asada Fajitas. These archived recorded livestream demonstrations can be found at facebook.com/GalleriaFtLauderdale.
Tickets are $20 per person and space is limited for this special edition of Cooking with The Galleria LIVE. Guests may register at https://bit.ly/MeetChefStephenPuhr.
The Galleria at Fort Lauderdale is currently open from 11 a.m. to 7 p.m., Monday through Thursday, from 11 a.m. to 8 p.m., Friday and Saturday, and from noon to 6 p.m. on Sunday. It continues to institute additional safety measures complying with government guidelines.
Cooper's Hawk Winery & Restaurants, Seasons 52, The Capital Grille and P.F. Chang's are offering full-service dining and take-out. Blue Martini is open, as well.
For additional upcoming events and information about Cooking with The Galleria LIVE or The Galleria at Fort Lauderdale, please visit facebook.com/GalleriaFtLauderdale. Patrons may also call (954) 564-1036 or visit www.galleriamall-fl.com.