Film@Srt: Godzilla
Sunday, 08/01/2021-, 03:00 pm-05:00 pm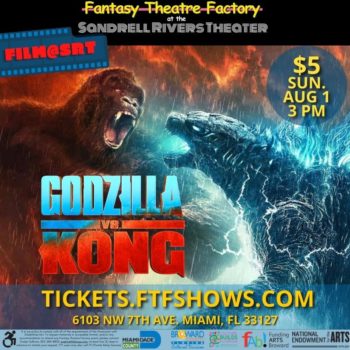 Sandrell Rivers Theater
6103 NW 7th Ave.,
Miami, Florida, 33127
Buy Tickets
Cost: $5
Requiring social distancing? YES
Requiring masks? OPTIONAL
Providing hand sanitizer? YES
Join us for a screening of the film "Godzilla VS Kong" on the big screen!
Rated PG-13
Kong and his protectors undertake a perilous journey to find his true home. Along for the ride is Jia, an orphaned girl who has a unique and powerful bond with the mighty beast. However, they soon find themselves in the path of an enraged Godzilla as he cuts a swath of destruction across the globe. The initial confrontation between the two titans — instigated by unseen forces — is only the beginning of the mystery that lies deep within the core of the planet.
Doors open at 2pm- get your concessions!
Parking Garage- 6104 NW 6th Ct. Miami, FL 33127
Ada Accommodations: It is our policy to comply with all of the requirements of the Americans with Disabilities Act. To request materials in accessible format, and/or any accommodation to attend any Fantasy Theatre Factory event, please contact Evelyn Sullivan, 305-284-8800, evelyn@ftfshows.com, at least five (5) days in advance to initiate your request, TTY users may also call 711 (Florida Relay Service).