One@Srt: Luckner Bruno's The Sovereign Show
Saturday, 07/03/2021-, 08:00 pm-09:00 pm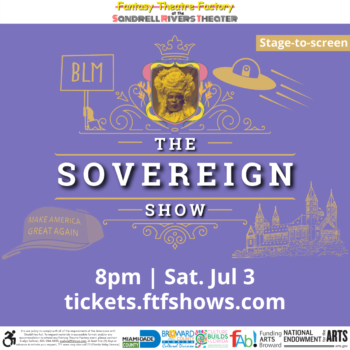 Sandrell Rivers Theater
6103 NW 7th Ave., Sandrell Rivers Theater,
Miami, Florida, 33127
Buy Tickets
Cost: $1
Requiring social distancing? YES
Requiring masks? OPTIONAL
Providing hand sanitizer? YES
Join us for a Stage-to-Screen one-person-multi-character Comedy Event!
Content not suitable for 13 years and younger. Viewer Discretion is advised.
You have been cordially invited to the Royal Estate of Future Versailles!
The year is 2647, and your Sovereign Ruler invites you to the premier of the Stage-to-Screen show "The Sovereign Show".
You will be special guests of our Sovereign Ruler: Hermaphrodite-saurus Rex I- Future Leader of France. We will go on a journey where we will time shift through to the 2020's: the Era of Revolution, Transparency and Change.
This is a show that shines a light on the upheavals and changes of that Historical Era. This will be a safe time traveling journey with no time paradoxes or mistaken meet-ups with your future mom.
Parking Garage- 6104 NW 6th Ct. Miami, FL 33127
About One@Srt: This program was developed to provide a space dedicated to the staging and sharing of one-person shows. This initiative is part of Ftf's plan to safely present cultural entertainment. This performance will premiere at the Sandrell Rivers Theater while simulcasting on Facebook & YouTube.
Ada Accommodations: It is our policy to comply with all of the requirements of the Americans with Disabilities Act. To request materials in accessible format, and/or any accommodation to attend any Fantasy Theatre Factory event, please contact Evelyn Sullivan, 305-284-8800, evelyn@ftfshows.com, at least five (5) days in advance to initiate your request, TTY users may also call 711 (Florida Relay Service).
Sponsors: This program was made possible with the support of the Miami-Dade County Department of Cultural Affairs and the Cultural Affairs Council, the Miami-Dade County Mayor and Board of County Commissioners, the Broward County Cultural Division, Funding Arts Broward, sponsored in part by the State of Florida, Department of State, Division of Cultural Affairs and the Florida Council on Arts and Culture, and the National Endowment for the Arts.