Dear Dad – An Exploration of Fatherhood
Saturday, 06/19/2021-, 02:00 pm-04:00 pm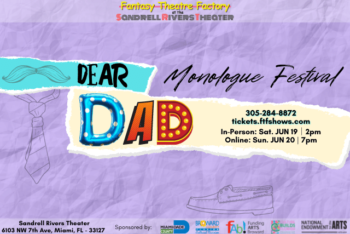 Sandrell Rivers Theater
6103 NW 7th Ave.,
Miami, Florida, 33127
Buy Tickets
Cost: $5
Requiring social distancing? YES
Requiring masks? YES
Providing hand sanitizer? YES
Dear Dad – An Exploration of Fatherhood features 12 monologues that touch upon the topics of absent fathers, trying to please a father, new fatherhood and more.
These monologues were previously recorded and edited together to create a beautiful film production that will premier on the big screen at the Sandrell Rivers Theater on June 19th.
Suitable for people 16 years or older. Under 16 should view with an adult.
Parking Garage- 6104 NW 6th Ct. Miami, FL 33127
Starting June 20th, this production will run on Fantasy Theatre Factory's Facebook and Youtube for one month!
Directed by: Marj O'Neill-Butler, Arianna Rose, Karen Stephens and Elizabeth Price.