Take Steps Ft. Lauderdale Presented by Craig Zinn Automotive Group
Saturday, 05/15/2021-, 09:00 am-11:00 am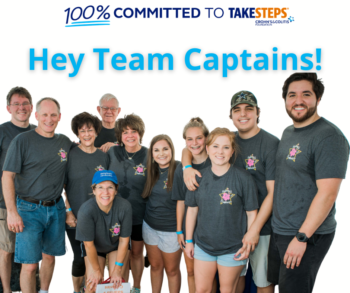 Nova Southeaster University
3301 College Avenue,
Fort Lauderdale, Florida, 33314
Website
Cost: Free
Requiring social distancing? YES
Requiring masks? YES
Providing hand sanitizer? NO
A Community Based Road Rally Aimed at Raising Crucial Funds to Combat the Disease
WHO:
Crohn's & Colitis Foundation – Southern Florida Chapter will hold their annual Take Steps event this year, but with a twist. To follow COVID-19 safety protocols, Take Steps Fort Lauderdale Presented by The Craig Zinn Automotive Group will now be a road rally in order to protect everyone, including patients, and caregivers. The event is geared towards raising crucial funds to combat Crohn's disease and ulcerative colitis and improve patients' quality of life.
Take Steps is a nationwide fundraising program that benefits the Crohn's & Colitis Foundation. Take Steps helps fund critical research and patient support programs, and to increase awareness of Crohn's disease and ulcerative colitis. Take Steps hosts family-friendly events in communities across the country, as well as a national virtual livestream. Funds raised through Take Steps will help transform the lives of those impacted by these diseases, and support the Foundation's critical research, education, and patient support programs.
WHAT:
The event is free and open to the public. To participate in the road rally, individuals and teams must register at the following link: http://cctakesteps.org/fortlauderdale2021
As the presenting sponsor of this event, the Craig Zinn Automotive Group is offering individuals and participating teams an opportunity to win a #ZinnExperience, which will take one winner and a guest on a chauffeured ride to a Florida Panther's playoff game in a Lexus Limo. To be eligible for the #ZinnExperience, event attendees are encouraged to upload a photo of themselves with one of two vehicles on display at the Take Steps Fort Lauderdale Road Rally from Toyota of Hollywood and Lexus of Pembroke Pines using the hashtag #ZinnExperience.
WHEN:
Saturday, May 15, 2021 from 9AM – 11AM
WHERE:
Nova Southeastern University
3301 College Ave, Fort Lauderdale, FL 33314
INFO:
For more information email awishneff@crohnscolitisfoundation.org or call 917-828-1652. For additional details visit http://cctakesteps.org/fortlauderdale2021.
About the Crohn's & Colitis Foundation
The Crohn's & Colitis Foundation is the leading non-profit organization focused on both research and patient support for inflammatory bowel disease (IBD). The Foundation's mission is to cure Crohn's disease and ulcerative colitis, and to improve the quality of life for millions of Americans living with IBD. Our work is dramatically accelerating the research process through our database and investment initiatives; we also provide extensive educational resources for patients and their families, medical professionals, and the public. For more information please visit: https://www.crohnscolitisfoundation.org/.
About Crohn's Disease and Ulcerative Colitis
Known collectively as inflammatory bowel diseases (IBD), Crohn's disease and ulcerative colitis affects millions of Americans. They are painful, medically incurable autoimmune diseases that attack the digestive system. Crohn's disease may attack anywhere along the digestive tract, while ulcerative colitis inflames only the large intestine (colon). Symptoms may include abdominal pain, persistent diarrhea, rectal bleeding, fever, and weight loss. Many patients require numerous hospitalizations and surgery. Most people develop the diseases between the ages of 15 and 35; however, the incidence is increasing in children.
About The Craig Zinn Automotive Group
As president and CEO of The Craig Zinn Automotive Group, Craig Zinn owns and operates Lexus of Pembroke Pines, Toyota of Hollywood, Subaru of Pembroke Pines, Lexus of North Miami, and Acura of Pembroke Pines offering new and used makes and models. The company's mission is to be South Florida's finest automobile dealership group, known for superior products, community involvement, and for helpful, courteous, and caring associates dedicated to delivering the ultimate client service experience as evident in their community service philanthropic endeavors. Over the course of 40+ years, it has made charitable contributions to the Joe DiMaggio Children's Hospital Foundation, Nicklaus Children's Hospital Spread Joy Toy Drive, CBS' Neighbors 4 Neighbors Adopt A Family 4 the Holidays Operation Elf Program, Subaru's annual Share the Love event, and Light-Up the Harbor for Children's Harbor, to name a few. Headquartered out of Hollywood, Florida, the corporate team can be found at Toyota of Hollywood located at 1841 North State Road 7,Hollywood, FL 33021 or https://www.czgroup.com/. They can also be found on Facebook at @zinnautogroup.