2020 Mercedes-Benz Corporate Run Presented by Turkish Airlines
Thursday, 04/02/2020 – 06:45 pm – 09:00 pm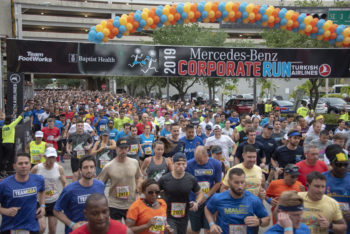 Huizenga Plaza
32 East Las Olas Blvd.,
Fort Lauderdale, FL, Florida 33301
Website
Cost: Entry fee is $45 per participant
The 2020 Mercedes-Benz Corporate Run presented by Turkish Airlines, a three-circuit 5K (3.1 mile) run/walk, will once again wind its way through the streets of Downtown Fort Lauderdale on Thursday, April 2, 2020, at 6:45 p.m. Known as "Florida's Largest Office Party", the run is open to employees of businesses, corporations, government agencies, financial institutions and non-profits – regardless of company size – and incorporates a special competition to award the overall men's, women's and co-ed teams in 20 different industries. Beginners can "ease into exercise" with friends, gain inspiration and motivation to continue walking and running to improve overall health, while competitive runners have the opportunity to shine amongst their co-workers and lead the corporate team to victory.
As part of the tri-county race circuit, $1 per participant of the Fort Lauderdale run will benefit United Way.
For registration information, please contact TeamFootWorks at (305) 666-RACE (7223) or visit www.mercedesbenzcorporaterun.com, www.facebook.com/MercedesBenzCorporateRun or www.teamfootworks.org.