Art Beat Miami
Wednesday, 12/04/2019 – 12/08/2019 07:00 pm –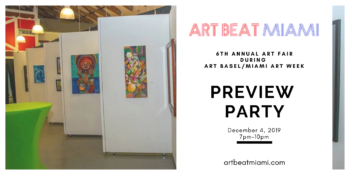 Caribbean Marketplace
5925 NE 2nd Ave,
Miami, Florida 33137
Eventbrite
Cost:
ART BEAT MIAMI celebrates its 6th year at the iconic Caribbean Marketplace in Little Haiti with its annual Art Fair showcasing the works of more than 30 emerging and renowned local, international and celebrity artists.
ART BEAT MIAMI will launch on Wednesday, December 4th, with an Opening Reception/Preview Party celebrating a one of a kind experience of visual art, music, fashion and food inspired by the people and culture of the Caribbean.
The ART BEAT MIAMI Art Fair opens daily from 12:00 pm to 8:00 pm with musical performances, LIVE art, conversations with artists, fashion and food.
ART BEAT MIAMI Signature events include:
Sip & Paint Thursday, December 5th 6pm to 8pm
Art + Cocktails = Expression. Learn to paint your own art selection while enjoying conversations and watching live paintings by Art Beat Miami exhibiting artists.
Spice it Up! Miami Friday, December 6th 7pm to 10pm
A ticketed unique cultural dining experience where guests learn to create appetizing bites from Celebrity Chefs, mix tropical drinks and move their bodies to amazing music from the islands with the backdrop of ART BEAT MIAMI Art Fair.
Sew Artsy Saturday, December 7th 5pm to 7pm
A Fashion event that takes Art to new heights in shapes, colors, design, texture and movement on a catwalk truly designed for masterpieces.
Poetic Lakay Saturday, December 7th 8pm to 10pm
An open mic platform for all performing artists to express themselves through poetry, spoken word, dance and music.
For more information visit artbeatmiami.com and @artbeatmiami. Tickets will be available on eventbrite.com and the week of the event at the Caribbean Marketplace.