Life and Death in Art Basel by P L 0 T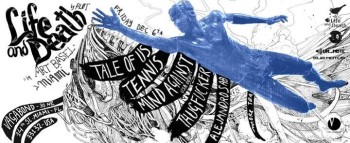 Friday, December 6, 2013, 7:00pm-5:00am
The Vagabond
30 NE 14th St.
Miami, Florida 33132
21+ Guys // 18+ Ladies
Pre-Sales
From December 5th to 8th, Miami will host the 12th annual edition of Art Basel, one of the biggest art gatherings worldwide. It is time for art enthusiasts to be glamoured once again, by something we like to call Paradoxes.
On December 6th, after their very successful first encounter during Art Basel 2012; PL0T will team up with it's acclaimed partner label LIFE AND DEATH to present the second edition of a series of events during Art Basel weekend.
Staring Tale of Us, Dj Tennis, Thugfucker and Mind Against (US debut).
After a very booming year and improbable events in the universe, the founders of Life and Death return to their beloved Miami to challenge themselves upon the creation of a materialized encounter, and take us exploring between Life and Death. Based on the vision of bringing the strange and undisguised sounds of the label to full sensory dimension, this 10 hour affair shall not resemble a conventional club night nor yet another label showcase; taking this opportunity to debut one of the labels most prominent up and comer, Mind Against; along with the already unshakable legends. Expect mind-boggling music and a physical transformation of The Vagabond's three main performance areas, all of which will be equipped with cutting edge sound systems, including the club's own custom Funktion 1, to ensure that patrons and art aficionados alike will enjoy the full spectrum of this exquisite multi-sensory experience.
And of course, a PL0T party is not a party without showcasing Miami's most prominent local talent. This time we are inviting to the decks Dsan Powell and Baez, to join our notorious resident trouble maker Alejandro Sab.
Come and be part of a night of paradoxes between Life and Death.
Special hosts in crime:
UN_MUTE
Sub-Motus
and SpeakerBox
NY official host: Autobrent
& girls girls girls…. Clau, Mariel, Yana, Uchi, Kat, Mel & Becks …;) trouble