4th annual Basel Castle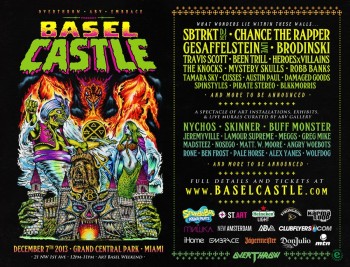 Saturday, December 7, 12:00pm – 11:00pm
Grand Central Park
721 NW 1st Ave
Miami, FL 33136
www.baselcastle.com
Saturday December 7th will mark the fourth edition of the art and music mega-event that is Basel Castle!  The annual event has earned the reputation as one of the best of Art Basel Miami Beach week, and due to popular demand the event's producers The Overthrow, Embrace and ABV expand yet again to a true festival style event at Grand Central Park (700 North Miami Ave, Miami, FL 33136). With over 8,000 expected to make it inside this year, Basel Castle 2013 will feature a one-of-a-kind music stage, large-scale art installations, live murals from some of the world's most influential contemporary artists, and more.
Art: Every aspect of the event incorporates dynamic visual art elements curated by Atlanta's multi-platform creative studio ABV (A Better View) with new installations and live art from Greg Mike, Nychos, Skinner,  L'amour Supreme, Madsteez, Jeremyville and many more. Exclusive to Basel Castle, artists will be creating one of a kind carnival-style games that fans can play to win prizes. There will also be large-scale sculptures and installations including the unveiling of a very special interpretation of Nickelodeon's Sponge Bob Square Pants by Lamour Supreme. Most important is the ability for guests to interact with the art and the artists directly watching them create on the spot throughout the event.  Additional pop up galleries/group exhibits, brand collaborations and apparel will be available with the opportunity to purchase original work as well as limited edition work created by the featured artists.
Music: Once again, the musical lineup includes some of the biggest names in ground-breaking music spanning many genres. Young Turks record artist SBTRKT will be DJ'ing. French electronic sensation Gesaffelstein, whose new album "Aleph" was named Mixmag's Album of the Month, will be performing live. Chance The Rapper will be making his Miami debut after releasing the biggest mixtape of 2013 'Acid Rap' which Pitchfork called "genius". Travi$ Scott, the hip-hop prodigy who is so talented he is currently signed with both Kanye West and T.I., will be bringing his high energy stage antics along with trap DJs/fashion moguls #BeenTrill. Bromance founder Brodinski will be displaying his global party rocking skills as will worldwide trap ambassador Heroes x Villains. Two of Red Bull Sound Select national talents Mystery Skulls and Cusses will be representing the program from across the country.  Also performing will be Miami's own rising rap star Robb Bank$ and electric soul man Austin Paul, recent Tomorrow World Festival DJ Niko Javan, as well as The Overthrow family of Tamara Sky, Damaged Goods, Spinstyles, Pirate Stereo, Blkk Morris and more. Plus, on November 23rd, there will be a big announcement about another superstar act who will be performing, so make sure to stay tuned to the website and Facebook page! Previous Basel Castle musical performers have included Pharrell Williams, Yelawolf, Theophilus London, Purity Ring, Trinidad James, Twin Shadow and many more.
And Much More: With the expansion, you can expect more one of a kind awesomeness, including the release of extremely limited edition gear from some of fashions most exciting young brands like Beentrill, Fresh I Am, and Mishka. Tech accessories brand ST.ART Initiative is presenting a pop-up boutique with the opportunity to purchase exclusive product collaborations, apparel, prints, and toys by hand selected brands and participating artists. iHome, the number #1 Brand in digital audio will collaborate with Rony's Photo Booth to create a social photo booth experience. Guests will also enter to win iHome gear with use of an official hash-tag on Twitter and Instagram as well as receive a high quality print to take home. Some of Miami's top food trucks will be on-site peddling their tasty goods as well. Karmaloop will be on hand as the official media partner, and plenty of New Amsterdam Vodka, Jägermeister, Heinken Light, and Strongbow Hard Cider will be flowing for guests 21+. Please enjoy responsibly.
Basel Castle 2013 promises to continue to be one of the premier celebrations of Art Basel Miami week. What wonders lie within these walls…