Librari Mapou readers nook Soft opening
Saturday, 03/30/2013, 06:00 pm – 09:00 pm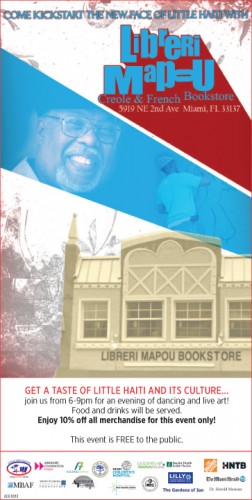 Libreri Mapou Creole & French Bookstore
5919 NE 2nd Ave,
miami, Florida 33137
Webpage Link
Kick start the new face of Little Haiti at Libreri Mapou, with the soft opening of its readers nook. Get a taste of little haiti and is culture… Join us March 30th 6om-9pm foran evening of dancing and the completion of a live mural by artist Nathan "Dee" Delinois.
Food and Drinks will be served. Enjoy 10% off all merchandise for this event.
Free and open to the public.