Bill Dean's Birthday At Terra Veritatis Historic Estate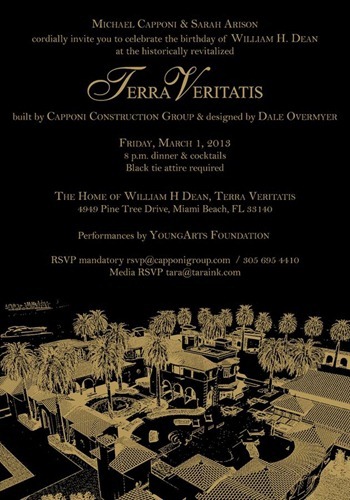 Friday, March 1, 2013 at 8:00pm
Terra Veritatis
4949 Pine Tree Drive
Miami Beach, FL
RSVP is mandatory, RSVP@capponigroup.com
After two years of dedication and hard work, the Capponi Construction Group has completely revitalized one of Miami Beach's most important historical estates, the former SS Kresge Estate.
 
You are invited to the most incredible black tie affair in honor and celebration of William H. Dean's Birthday, owner of the new Terra Veritatis. The historic estate is an 18,000-square-foot waterfront property on 2.5 acres that combines the luxury of a tropical urban escape with the serenity of an exclusive waterfront residence.
 
Prepare to be inspired and entertained by the theatrical performances of the YoungArts Foundation, generously provided by Sarah Arison along with sounds by DJ Irie. The YoungArts Foundation was created to identify and support the nation's most outstanding emerging artists by providing them with life-changing experiences, access to significant scholarships, and to encourage the pursuit of careers in the arts.