Giralda Under the Stars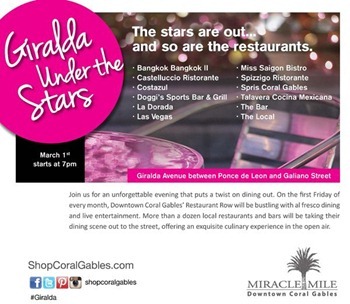 Friday, March 1st, 7pm to midnight
Downtown Coral Gables' Restaurant Row
100 block of Giralda Ave between Ponce de Leon Blvd and Galiano Street
Coral Gables will be bustling with al fresco dining and live entertainment as part of Giralda Under the Stars.
The 100 block of Giralda will be closed to vehicular traffic and visitors to Downtown Coral Gables will be able to stroll down Restaurant Row for a few magical hours on Friday night, March 1st. Eleven of Downtown Coral Gables restaurants and bars will fill the street with tables and chairs and serve patrons under the stars. There will be live music, art, and cool weather to enjoy!
From the local dinner crowd looking to walk to their favorite neighborhood restaurant to the traveling gourmand seeking a new scene, Restaurant Row in Downtown Coral Gables has something for every palate. Locals and foodies alike can enjoy Vietnamese, Spanish, Italian and Mexican cuisines among other ethnic and eclectic culinary options.
For reservations, please call the restaurant of your choice.
Participating restaurants and bars include:
Bangkok Bangkok II
Castelluccio
Costazul Peruvian Cuisine
Diane's Kitchen (coming soon)
Doggis Sports Bar and Grill
Miss Saigon
Spizzigo
Spris
Talavera Cocina Mexicana
The Bar
The Local