MOSKOW DISKO featuring Art by Chris Aldana | Philanthrofest Fundraiser
Wednesday, 02/27/2013, 09:00 pm – 01:00 am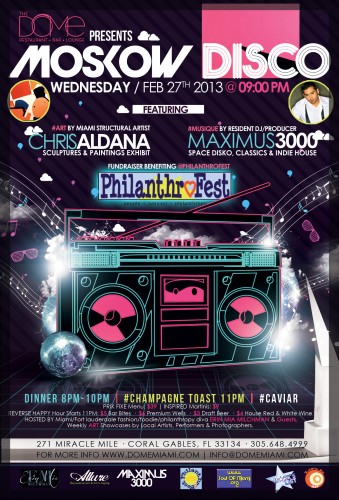 The Dome
271 Miracle Mile,
coral gables, Florida 33134
Facebook Link
The Dome Restaurant, Caviar Bar and Lounge Presents:
"Moskow Disko"
Caviar. Champagne. Musique. Art.
Every Wednesday.
Feb 27: Featured Artist, Chris Aldana | Raffle And Fundraiser For PhilanthroFest
Musique:
Featuring Miami Based DJ/Producer
MAXIMUS 3000
( www.facebook.com/djmaximus3000 | www.twitter.com/djmaximus3000 )
Playing a special SpaceDisko House set featuring italo, new wave, funk, classics | Late night Indie, Nu-disco & House
Hosted by: Erin Mia Milchman
Sponsored by:
PhilanthroFest
Soulofmiami.Org
Hotspots Media Group (Hotspots Magazine, Edge Online, Genre Latino)
Mark's List
Max-Ink Enterprises, Llc (Maximus 3000 Productions, Usagroove.Fm, 8025 Alliance Music Group, 8025 Promo)
Erin Mia Milchman, Inc
Allure Rejuvenation & Anti-Aging Spa
Art:
Weekly Selected Works And Showcases By Local Artists & Photographers.
This Week February 27-March 5th 2013
Artist: Chris Aldana (Sculpture & Painting)
Weekly Features:
Libations:
$9 Featured Martinis
"Ring in" Reverse happy hour EVERY week with a complimentary champagne toast at 11pm
"Reverse" Happy Hour begins at 10pm:
$6 Premium well
$4 House Red and White wine
$4 Draft beers
Dinner 8pm-10pm featuring full menu or
Buy any Caviar platter and receive a complimentary bottle of Champagne.
$5 bar bites 10pm – close during reverse happy hour Chef's Variety Special
Moskow Disko Celebrates Art, Love, Music, & Food, At The Dome Restaurant, Bar and Lounge On Miracle Mile!
The Dome Restaurant, Bar & Lounge, an environmentally conscious, farm-to-table eatery and caviar bar on Miracle Mile, continues to thrill with Moskow Disko the weekly party celebrating food, music, and the arts, in the heart of Coral Gables.
Moskow Disko has become the go-to destination on Wednesday nights. The Official Launch Party held January 9, 2013, was attended by over 150 VIP guests and received press coverage from The Miami Herald, HotSpots Magazine, Mark's List, Welcome Channel, and Yahoo! News, as well as countless other media outlets.
Hosted by a bevy of who's who philanthropists, art buffs and socialites and musically curated by Billboard DJ and Producer, Maximus 3000 (Miami Beach Pride, White Party, Winter Music Conference), Moskow Disko guarantees a memorable evening for sassy socialites and blithe bohemians alike. Expect The Dome's exquisite edibles on hand, plus a reverse happy hour, $4 beers, $6 cocktails, $9 martinis and a complimentary champagne toast. The
Appreciate the artsy, upscale vibe while enjoying the classic beats presented by Maximus 3000. The noted DJ and Producer plays all your favorite electronic hits from the early eighties, from artists such as Freeez, Lime, Kraftwerk, Telex, Yaz, Giorgio Moroder, Berlin, and Patrick Cowley.
The Dome is the first LEED® Silver certified restaurant in Coral Gables (only the 2nd in South Florida and the first independently owned). Utilizing the application of recycled materials, local farm vendors, an induction kitchen, LED lighting, green operation methods and digital menus on iPads, to name only a few, The Dome brings a modern and sustainable restaurant to Coral Gables.
For advance reservations, please call 305.648.4999. Follow The Dome on Twitter @TheDomeMiami and on Facebook atfacebook.com/TheDomeMiami. Visit domemiami.com to peruse the complete menu, the full wine list, and The Dome Restaurant, Bar & Lounge's signature cocktails.