Yo Miami's Average Joe Art Sale: Back to Basics Edition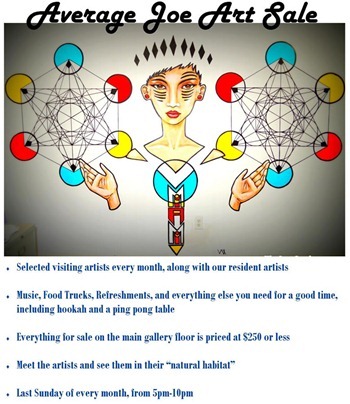 Sunday, January 27, 5pm-10pm
Yo Miami Art Space
294 NE 62nd St
Miami, FL 33138
If you're already familiar with our monthly Average Joe Art Sales at this point, you're in for a treat: We're happy to announce that we have some new features for the next one, which is on January 27th (last Sunday of the month). For starters, we'll be introducing you to some friends of ours at If:Miami, described as "an open source entrepreneurship (OSE) project." Some of their main goals are "to advance entrepreneurship across various industries, spur jobs and inspire innovation in both the hyper-local and global communities." They're going to be bringing in different entrepreneurs each month who will add their own flavor to every event. For their first month as Average Joes, they'll be bringing along their friends at JoJo Tea, a local "pure, premium tea" company who will have plenty for visitors to sip on (as well as merchandise for sale).
Touching Miami with Love, the non-profit that has been empowering the families of Overtown since 1995, will have their "Art That Feeds" custom painted plates for sale as well. $40 per plate provides them the funds they need to get 35 kids hot nutritious meals after school.
We'll have a fresh batch of visiting artists in the house along with our Resident Artists, selling everything from original works, to limited edition prints, and merchandise (Apparel, accessories, and more). The best part? We're capping the selling price at $250 per item. You can walk away with an original piece of art to brighten up your place or to offer as an amazing unique gift for less than the price of an iPod.
(Disclaimer: Resident Artists may have more expensive work in their studios)
Resident Artists:
-Lorie Setton
-Kazilla
Visiting Artists:
-Trek 6
-Lizzie Easton-Montes
-GG
-James Brutus
-Teepop
-JNGL (Andres Carmiol)
-Ivan Roque
-Trap (Oldschool NY)
-Anthony Jackson:
-Vince Herrera
-Goop Massta
-Natalia Molina
-Raul Santos II
-Ulises Baine
The Los Chamos food truck is going to be out front serving up their delicious Venezuelan food (arepas, empanadas, etc) so come hungry and leave happy (I don't know which fast food chain I just took that from but hopefully they won't notice/mind).
Another added element will be a small friendly ping pong tournament on our custom made/painted table, happening earlier at 3pm the same day.