The downtown FULL MOON party presents The Rebirth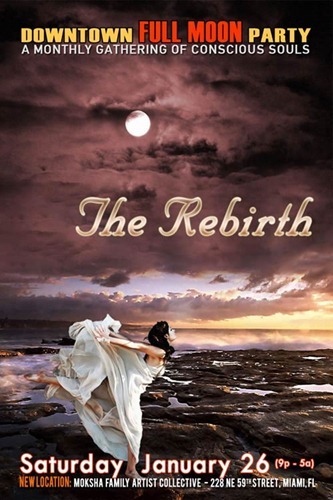 (Celebrating The First Full Moon of The New Year)
Saturday January 26, 2013, From 9p – 5a
Moksha
228 NE 59th Street
Miami, FL 33137 
Facebook Page
A Monthly Gathering Of Conscious Souls
  
You are invited to a very special event this month as we start a new year and welcome you to join us to celebrate the first Full Moon of 2013 in a spectacular fashion. We will hold this next party at MOKSHA for all of you who are familiar with the space, we are looking forward to a high-energy and positive vibe on a conscious level…
 
Free Admission before 10pm for 21+ years old only.
 
Free Admission before midnight for all drummers, musicians, and performers with proper instruments, equipment and gears (admission is at the discretion of the door staff)
  
Special Live Performance By:
Dusthead
Kolabo
Makai
 
Featuring:
Live Composition: Dusthead Feat. Susan Suzka
Live Music Performance: Kolabo; Makai
Special Live Music Set: Warp9
Resident Deejay: Chilly Monestime
Reflections: Sophie Moon
Special Guest Drummer: Bli Bi Gore Eric
Drum Leader: Flex Drum Jams (RENZO Vargas)
Fire Performances: Need To Burn; The Florida Fire Collective; 
(All other professional talents and musicians are welcomed!)
Hula Hoopers: Bring your own!
Interactive Art Activities
We always like to keep this a surprise; meaning that you'd have to attend the party to find out and also be a part of the fun!
 
Drumming:
Our talented drummers keep the drum beats going all night long. Just get ready to dance around the fire and let the Full Moon spirit in! Bring your drum, musical instruments, or your ears! The Extended Drumming set will start sometime after 10p – until… Come early to enjoy as much of this as possible.
  
Suggested Attire:
We would like to see everyone dressed in creative fashion; meaning that you are free to be you at the Full Moon party, and expressing yourself goes beyond the contribution of your positive energy, it also must be dressed and dressed properly. So, please think of something unique and outrageously you!
 
Hosted By:
Fritz "e" Romeus; Tracie Samara; Sol Amor; Sophie Moon; Ian Michael; Jason Parente, Renzo Vargas
 
Live Music Sets: 
Dj Chilly Monestime
Warp9
 
Drum Sessions: 
Bli Bli Gore Eric
Flex Drum Jams
 
Please Support:
i.d. art
 www.needtoburn.com