Cafeina Kicks Off The Season With Art Walk Celebration
Second Saturday Art Walk is September 8, 2012. Opening Reception: 7:00 – 9:00 pm. After party until close.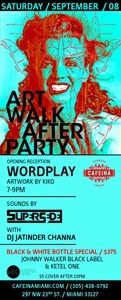 Cafeina Wynwood Lounge / Wynwood Exhibition Center
297 Northwest 23rd Street
Miami, FL 33127
305.438.0792
www.cafeinamiami.com
Exhibition on view: September 4, 2012 – October 1, 2012.
Cafeina Wynwood Loungeinvites artists, curators, collectors and art enthusiasts alike to make Wynwood their 1st stop on September 8, 2012, during the Second Saturday Art Walk, and to make Cafeina Wynwood Lounge their after party destination! Cafeina's Wynwood Exhibition Centergallery kick's off the fall season with a spank'n new exhibition by Isaac "Kiko" Benaimwith his mixed media works on canvas and wood titled, "Wordplay." Local Miami mural artist Trek6will also have a selection of works on display. Guests may enjoy the works on display in Cafeina's 1000 sqft contemporary art gallery, adjacent to the lounge. Sounds will be provided by Cafeina's resident DJ & official DJ of the Miami Dolphins, DJ Supersede; along with guest DJ Jatinder Channa.
Enjoy tapas styled dishes until midnight such as: Coffee & Rum Braised Short Rib Mini Tacos($12), queso fresco, cilantro plushes & pickled onion; the Crab Cakes($14), "Cafeina's Signature Dish," colossal jumbo lump crabmeat, capers, toasted red pepper aioli; Roasted Chicken Club Sliders ($11), lettuce, tomato, pancetta, garlic aioli; and the classic Stuffed Dates ($12), Chorizo with parmesan cheese wrapped in bacon. Indulge in a delicious hand crafted libation such as the: Café con Leche Martini($12), House infused Svedka Coffee Vodka shaken with Amarula Liqueur and Dark Créme de Cacao sprinkled with ground cinnamon and Colombian coffee beans; or the spicy Hot Passion($11), Bacardi Superior Rum blended carefully with Cointreau, fresh passion fruit purée, fresh citrus and then touched off with a kick of jalapeño!