Summer Photo Show 2012 Opening
Saturday, August 11th from 5:00 – 10pm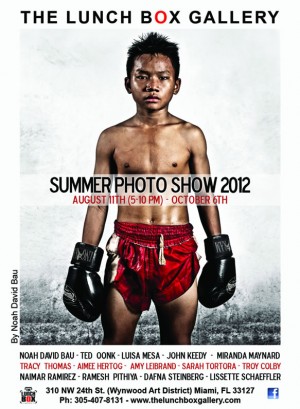 The Lunch Box Gallery
310 NW 24th. St.
Miami, FL 33127 (Wynwood Art District)
August 11th, 2012 – October 6th, 2012
The Lunch Box Gallery is pleased to announce for the second year its group exhibition "Summer Photo Show 2012", featuring the photography work of fourteen artists. The showcased pieces are a result of a call for entries oriented to national and international visual artists working in all styles of photography including any mixed-media art that utilized photography as one of its forms of expression. All photographic methods, formats, types and schools were welcomed.
In this show, The Lunch Box Gallery is exhibiting works of insightful conceptual ideals materialized through exceptional craftsmanship, which are intended to represent fascinating takes and points of view in photography nowadays. The thought behind the image of the artist is very important in this show, yet as important as the final visible result. The range of photography tendencies to be found in the show is vast: from conceptual and documentary photography, to narrative photography, photo-essay, iPhoneography and photo-collage; touching on topics like obsessive-compulsive tendencies, the demystification of the "happily ever after", performative images that play with childhood materials to reflect on how they determine us, or the mistreated young Muay Thai boxers from a Bangkok slum. They all convey on representing an individual concept and a very particular way of externalizing it.
Photographers participating in the show include:
Sarah Tortora (Connecticut), John William Keedy (New York), Noah David Bau (Boston/Bangkok), Amy Leibrand (Ohio), Miranda Maynard (North Carolina), Lissette Schaeffler (Miami), Aimee Hertog (New Jersey), Dafna Steinberg (Washington DC), Ted Oonk (The Netherlands), Luisa Mesa (Miami), Troy Colby (Kansas), Ramesh Pithiya (Washington DC), Naimar Ramirez (Puerto Rico) and Tracy Thomas (California).
Regular business hours Tuesday – Saturday 11:30-5pm or by appointment.
A few lines about the artists and their artworks…
Sarah Tortora (Connecticut) – Sarah's photographs in this show address displacement by organizing unrelated objects within the frame, where the addition of an anonymous subject in these works further frustrates one's ability to establish a narrative within the contents of the image; reminding us of our existence in a world of constant material experience and exchange. Her work explores the experiences of the product shot versus the object it depicts, where the product shot arguably fetishizes and idealizes the object to a greater extent than the object can ever achieve for itself.
John William Keedy (NY)- This visual artist is exhibiting three pieces from his intriguing series "It's Hardly Noticeable", which explores the complex and meticulous world of a character who is caught between an overwhelming drive to yield to his compulsions and an undeniable desire to blend in with those around him. The portrayed scenarios are the result of a man who struggles to reconcile himself with his differences and obsessions, attempting to find a balance. This series has become a performative way for the artist to indulge his own anxieties.
Noah David Bau (Boston/Bangkok) – He is participating in the show with "This Is My Body"; a series of portraits depicting young professional Muay Thai boxers at a training camp in Bangkok's most notorious slum. His aim is to deliver the viewer to the intersection of adolescence, commerce, beauty, and brutality, photographing boys that have been orphaned or neglected and discarded, subjected to grueling workouts, brutal body punishment and trained to be merciless. Noah realized these boys are at once admired and unwanted, savage and forlorn, innocent and jaded, becoming inspired to create this series and illuminate these contradictions.
Amy Leibrand (Ohio) – Amy is featuring two pieces from her series "Tensional Perspectives", which explores situations and conditions characterized by speculative future outcomes. Can we not escape the limitations that define our presence? By exploring the dynamics of boundaries and placements, one's sense of identity dissolves, bringing about disorientation, but also the possibility of new perspectives.
Miranda Maynard (North Carolina) – "Manners" is a series of conceptual photographs that focuses on the body and food as intimate cultural symbols, and on play as a means of self-determination. Miranda's work is a process of performing with childish materials and bright colors that were captivating to her in her childhood, but that nevertheless are relevant to a broader audience. She believes there is something infectiously exciting about seeing people playing with the materials they want to play with.
Lissette Schaeffler (Miami) – This photographer is featuring two pieces from her series "By The Hour", which portrays the rooms of the typical "Pay by the Hour" motels in Miami. The artist incorporated the element of surprise, but never asking to see the rooms before paying for them; like having a rendezvous between the space and herself. What's really behind this project is the artist's personal need to discover if she could photograph the urban landscape as comfortably as she did her portraits; finding out she approached them very similarly, treating the rooms as sitters and ultimately becoming portraits of the space.
Aimee Hertog (New Jersey) – Aimee's work explores what it means to be feminist in a post-feminist era through her series "Defying Gravity". Starting with sculpture, the artist manipulates wedding gowns to explore the reality behind the myth of living "happily ever after", and then superimposes them onto claustrophobic, two-dimensional, photographic landscapes. That is how her photographic narratives are created to reflect a disillusionment with contemporary society by emphasizing the dichotomy between "natural" and "artificial", and highlighting the difficulty women have constructing and retaining their identities in a culture that favors traditional gender roles.
Dafna Steinberg (Washington DC) – Dafna is what you can recognize as an integral artist. Working in photography, video and mixed media, she brings us her complex photographic collages. Always fascinated by details and things in fragment, her series "Little Monsters" takes the spectator's imagination in a different direction, allowing him/her to wander through different story lines. Her inspiration comes from dreams, the media and how she sees the world, utilizing magazine cut outs, vintage postcards and photographs of unknown people.
Ted Oonk (The Netherlands) – The artist is exhibiting two images from her series "The too-aesthetic database", a series of non-fictional photographs on her sister Pim who has Down Syndrome. Ted's work stem from a fascination and discontent that she has in relation towards the way we deal with matters that deviate from the norm, and how imagery contributes to the way we stigmatize. Aesthetic, poetry and intimacy play a great part in her work as well as awkwardness and the pained, providing another kind of perfection which becomes a challenge to keep up with in this image-ruled world.
Luisa Mesa (Miami)- Luisa is renowned by her mixed-media collages that also incorporate illustration, drawing, photography, painting and digital manipulation. The artist interprets our reality as the manifestation of an invisible force that animates it, where life is not flat but full of layers beneath the surface. Luisa introduces old portraits into her work, juxtaposing the old and the new and 'giving them life' in a contemporary setting, thus allowing them possibilities they may have never had.
Troy Colby (Kansas) – Trough his series "The Return", Troy reflects about how in all the midst of the modern advances, we are losing ourselves daily to this life that has lost touch with just being human. We struggle to maintain, control and advance over nature, even in beauty. As age creeps up we do everything to fight it and try to withhold the process from taking place, yet at some point we start to come to an area of acceptance and peace. We have to either put faith in what is to come, or just do not have any more fight left in us. This is the point where we are returning back to where we came, an earlier condition or place; and that's what is revealed in Troy's images.
Ramesh Pithiya (Washington DC) – Ramesh creates photographs, sculpture, and site-specific installations that explore how we rely on photography to provide our memories of personal experiences, to frame our understanding of who we are, and to shape and preserve our collective memory of historical events. Inspired by our instinct as archivists, gathering and sifting through the
documents and objects, his work documents temporary still life structures that combine political, social and personal material within sculptural compositions; bearing witness to experience
how used things or how things can be used in another context, which find their
relationship in our daily life.
Naimar Ramirez (Puerto Rico) – Her work presents questions about identity and its relationship to images, reflecting on the dichotomy between what is seen and what is projected through the creation of masks. As intermediaries between the wearer and the outside world, the masks strive to show some ways in which individuals are represented, and how much 'truth' can be communicated through this depiction; also, how we re-create ourselves in response to our context by manipulating our own image. Working with what seem to be wearable, interchangeable pieces like free magazines, the viewer can feel as though they can pick and choose what they need, or would like to be like, making of the image/identity a usable object. At the end, Naimar works with a general approach to the way our self-image is informed by outside events and propaganda.
Tracy Thomas (California) – Well-know iPhoneographer, each of Tracy's montage pieces are shot and edited entirely on an iPhone4; a device that for sure has provided her wings to the whimsical, sometimes bizarre and oft-times humorous alter-ego buried deep inside her. By combining the old with the modern element, Tracy juxtaposes photographs taken prior to the 1940's with her own shot background elements, reflecting on the contents of the leftover creative imaginings of her childhood mind, bringing to life interesting characters of her dreams.