Miami Performance International Festival
From July 26 through 29, 2012
Miami Design District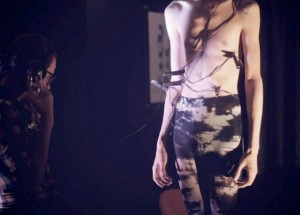 150 NE 40th St.
Miami, Fl 33137
Miami Beach Botanical Garden
2000 Convention Center Dr.
Miami Beach, FL 33139
www.miamiperformancefestival.org
From July 26 – 29th, 2012 Edge Zones Projects a Miami based non-profit arts organization will host the first Miami Performance International Festival (M/P'12 ).
The festival draws upon the rich local and international cultural landscapes to present masters of performance and installation art who will work alongside both established and emerging artists selected from around the world. This intensive contemporary arts event will take place at three different sites throughout Miami-Dade County: Downtown Miami, the Miami Design District and the Botanical Gardens of the City of Miami Beach.
This innovative program will explore the breaking down of boundaries between visual art, music, dance and poetry. In collaboration with a consortium of three arts institutions and curators, M/P '12 will provide a platform and support artists to realize reflexive and culturally poignant projects. Miami will be the stage for this dynamic laboratory.
A dynamic dialogue between time based art practice and its documentation will occur through a comprehensive exhibition of site-reactive installations. Live performances will be presented to the public in a participatory discourse during the four-day program. The festival, which is free to the general public, will include workshops, lectures and artist talks.
Participating Artists:
Argentina : Gabriel Montero | Canada | Christine Brault | Irene Loughlin | Colombia: Eduardo Oramas | Dominican Republic: Eliu Almonte | Nicolas Dumit Estevez | Pery Jimenez | Johan Mijail Castillo| Jochi Mu̱oz | Ismael Ogando | Grimaldy Polanco | Alexeis Tellerine | El Salvador : Alexia Miranda | | Mexico: Fausto Garcia | Pancho Lopez | Spain: Palmer Fisher РJessica Hirst | Usa : | Nathalie Alfonso | Cristy Almaida | Eduardo Balerdi | Bistoury Physical Theatre | Pip Brant | Belaxis Buil | Daniel Fiorda | Becky Flowers ( A Touch-Paper Collaboration With Ika Santa Maria, William Rey, Christine Fitzgerald, Claudio Marcotulli & Diego Salazar Cely) | Orestes De La Paz | Bill Gilbert | Fsik Huvnx | Mark Holt | Leder Kremer | Walter Lara | Liquidvistas | Claudio Marcotulli | Mikey Muench | Stephan Nesvacil | Charo Oquet | Erika Osborne | David Prusko | Phaedra Robinson | Jennifer Suarez | Nicole Soden |
Sponsors
The MIAMI PERFORMANCE INTERNATIONAL FESTIVAL 12 is made possible with the support of the Miami-Dade County Department of Cultural Affairs and the Cultural Affairs Council, the Miami-Dade County Mayor and Board of County Commissioners." It is also sponsor by The Miami Beach Cultural Affairs Council, the Miami Beach Mayor ad Board of County Commissioners, The Miami Beach Botanical Gardens , the CCE Miami – Centro Cultural Español de Cooperación Iberoamericana. Sponsored in part by the State of Florida, Department of State, Division of Cultural Affairs and the Florida Council on Arts and Culture.