Art of Found Objects The Education Fund's Charity Children's Art Auction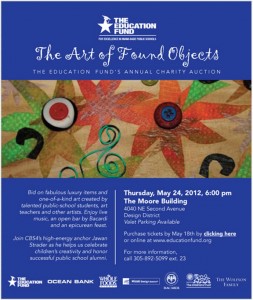 May 24th from 6:00 to 10:00 pm
The Moore Building
4040 NE 2nd Ave
Miami Design District
Purchase tickets online in advance through May 18 or by calling 305-892-5099, ext 23. Tickets start at $100.
Follow the excitement on social media. Like The Education Fund on Facebook and follow us on Twitter @EducationFund; "The Art of Found Objects" Hashtag is: #FindArtHere
Christie's and Sotheby's may have the corner on auctioning Reniors and Monets, but on May 24th from 6:00 to 10:00 pm, The Education Fund's Charity Auction is the place to be if you want to bid on masterpieces by Albert, Ivan, Christi and hundreds of others – all 5 to 18 year olds who are poised to be the next Picasso. Guest participation also ensures these talented kids receive the support they need as 100 percent of the proceeds from art sales are donated back to their classrooms in order to help their teachers purchase supplies for next year's lessons.
Given recent research that shows art classes teach critical problem solving skills needed for success in business, attendees may also be helping to develop Miami's future CEOs like the ones being honored that night as The Education Fund's Public School Alumni Achievers, including Rick Hirsch, managing editor of The Miami Herald; Stephen Bittel, Founder & Chairman of Terranova; and Representative Michael Bileca, Florida House of Representatives, Rachael A Sapoznik, President & CEO of Sapoznik Insurance & Association, Inc., Albert Dotson, Jr., Partner at Bilzin Sumberg, and 15 others (see page 2 for complete list).
Held in the historic Moore Building in the epicenter of Miami's art and design community, The Education Fund's 'Art of Found Objects' Charity Auction will showcase more than 150 one-of-a-kind pieces of artwork created by Miami-Dade County public school students and teachers representing nearly 50 schools. This exclusive event has raised more than $722,000 since it began by combining the power of a child's imagination with the ultimate recycling program. Much of the artwork is crafted from materials "found" at The Education Fund's Ocean Bank Center for Educational Materials, a "free supplies for classrooms" program. Stocked with supplies donated by businesses, the Ocean Bank Center is where 15,000+ teachers have shopped free-of-charge since 1993, garnering $6.4 million in supplies needed for student lessons.
In the wake of massive school district budgets cuts, the budgets for local schools have been slashed. "These cuts have a direct impact on schools' supplies, making classes like art, which depend on hands-on materials, much more difficult to teach," said Linda Lecht, president of The Education Fund, a 26-year old non-profit, that works side-by-side with the private sector in Miami-Dade to ensure every child has the education needed to reach their full potential. "How can you teach a child to paint if you don't have paint brushes?"
"We have long supported 'The Art of Found Objects,' because we understand the intricate connection the arts play in the overall development of a child," said Modesto Abety, President/CEO of The Children's Trust. Indeed, The Children's Trust houses one of the largest collections of artworks purchased from the event.
In addition to the silent auction, the event will feature live music, an open bar by Bacardi, an epicurean feast provided by Whole Foods, as well as the opportunity to bid on luxury items like vacations, jewelry, dining experiences and more. "Key sponsors like Ocean Bank, The Children's Trust, Whole Foods, DACRA and Bacardi make it possible to hold this unique fundraiser to help our public school students," said Lecht.
Yearly, an A-list crowd turns out for the epic evening, comprising notable art collectors, artists, community and business leaders, as well as politicians. Past attendees include: Artist Xavier Cortada, Emmy-Award winning anchor of CBS4 News Shannon Hori; Myrna Palley, whose world-class glass art collection is on display in its own wing at the Lowe Art Museum; Federal Reserve Regional Executive Juan del Busto, Pinnacle Housing CEO Louis Wolfson, the Ziffs, School Board Member Raquel Regalado, TV & Radio Personality Jimmy Cefalo, Real Estate Executive Hank Klein, and many more.
At the event, The Education Fund also honors local leaders who are all products of local public schools. This year, the organization will recognize 20 alumni achievers.
Receiving The Education Fund's Public School Alumni Achievement Awards:
· Linda Slote Quick Bernstein, President, South Florida Hospital & Healthcare Association
· Brett Beveridge, Founder & CEO, The Retail Outsource
· Representative Michael Bileca, Representative, Florida House of Representatives
· Stephen Bittel, Founder/Chairman, Terranova Corporation
· Maria Del Busto, Chief Global Human Resources Officer, Royal Caribbean Cruises, LTD
· Albert E. Dotson, Jr., Partner, Bilzin Sumberg Baena Price & Axlerod LLP
· Jose M. Hevia, Jr., President/CEO, Aligned Partners
· Rick Hirsch, Managing Editor, The Miami Herald
· Kimberly Hutchinson, Director, Casa de Campo
· Alina T. Hudak, Deputy Mayor/ County Manager, Miami-Dade County
· Fedrick Ingram, Secretary/Treasurer, United Teachers of Dade
· Ralph Gonzalez Jacobo, Executive Vice President, Ocean Bank
· Basil T. Khalil, Vice President, FedEx Express
· Roberta Kressel, Senior Vice President, TD Bank
· Aletha Player, Area Manager, Florida Power & Light Company
· Stan Rubin, Executive Vice President/Chief Financial Officer, Ocean Bank
· Adalio Sanchez, General Manager, IBM Corporation
· Rachael A Sapoznik, Sapoznik Insurance & Association, Inc., President and Chief Executive Officer
· Victoria E Villalba, President, Victoria & Associates Career Services
· Carol Wyllie, Executive Vice President, Graham Companies