KCC Productions presents The Alfredo Chacon Groove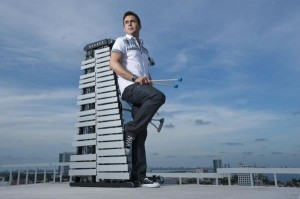 Friday, May 18, from 5-7 PM
Volvo Ocean Race
Bicentennial Park
1075 Biscayne Boulevard
Vibraphonist, Composer, and Percussionist Alfredo Chacón is debuting in the USA's jazz scene after almost two decades long career in Europe. He's presenting his new album "MAGIC PLACE" in which his Cuban roots fuse with influences from other genres like funk, bossa, soul and bebop in a blend of beautiful melodies and groovy rhythms, resulting in fresh, colorful, happy and elegant music, full of surprises that will get the listener in a good mood.
Descended from a family of musicians, and having studied for twelve years at the Conservatory Manuel Saumell, the Amadeo Roldan and the Instituto Superior de Arte in Havana, vibraphonist Alfredo Chacon moved in 1993 to Stockholm, Sweden. He developed a career as a musician on stage and studio, working with artists from different musical genres (pop, hip hop, jazz, soul, funk, fusion, folk, Latin jazz, etc..) among whom you can name Nordman, Lill Lindfors, Bo Kaspers Orkester,. Carola, Bebo Valdes, Mendez, Blacknuss All Stars, Big Band Folk Stockholm , Magnus Lindgren & Radiojazzgruppen, Kroumata and Anders Orchestra Neglin, and participated in televised galas accompanying artists like Lisa Nilsson, Marie Fredriksson (Roxette singer), Jennifer Brown, Eagle Eye Cherry and Tommy Koerberg, among others. He has also worked with bands such as Salsa Morena, Hot Salsa and Hatuey throughout Scandinavia, Germany, Austria and Switzerland for six years.
In 2000 he participated in the "Cuban All Stars", an orchestra made up of Cuban musicians living in Europe, with Bobby Carcases special guest. Since 1998 he has been with the group "Tigers" for which he composed and arranged, and in 2001 founded the group "Sonera" being a composer and arranger of most of its repertoire. He also worked as a professor of percussion at Kulturama and The Royal Academy of Music in Stockholm and conducting workshops of Cuban music throughout Sweden. In January 2004, he traded the snow of Stockholm for Madrid to give new life to his career as a percussionist, composer and producer. Among the artists he has worked so far in Spain can be named: Aute, Beatriz Luengo, David Bisbal, David Bustamante, Andy & Lucas, Victoria Abril, Miguel Saez, Mesay, Golden Son, Habana Abierta, Habana Blues and Raul Torres.