Rough Draft Inc. Presents MEGA May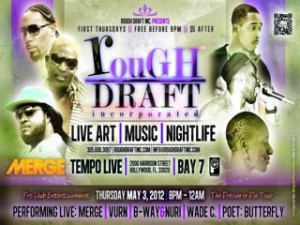 May 3, 2012, 8PM
Tempo Live!
2000 Harrison Street-Bay 7
Hollywood, FL 33020
roughdraftinc.com
Live Art | Live Music | Creative People
Every first Thursday at Tempo Live! Rough Draft Inc. combines Live music with impromptu art to create a mind blowing experience that draws in every angle of the creative soul!
To describe Rough Draft in a few characters wouldn't do it complete justice.
Beyond the art, its a good time that everyone can enjoy. So whether you consider yourself an artist or not you will definitely want to experience what Rough Draft is for yourself.
The MEGA May edition of Rough Draft will feature LIVE performances by highly acclaimed spoken word artist Rebecca "Butterfly" Vaughn, Hip-Hop pop group MERGE, local backpack hipsters Vurn and The Pro Club and so much more!
We're also screening a short by artist, sketcher, painter, designer, director, producer (lots of titles but well deserved) Noah Jones, who will also be painting LIVE throughout the night.
Thursday, May 3, 2012
Tempo Live!
2000 Harrison Street- Bay 7
Hollywood, Fl 33020
8PM – Midnight
FREE before 9PM|$5 After
Cash ONLY Bar
Interested in creating, performing or displaying your works please contact us (305) 600-3097 or info@roughdraftinc.com | http://roughdraftinc.com | http://facebook.com/RoughDraftInc | http://twitter.com/RoughDraftInc | http://youtube.com/roughdraftinc1