Celebrate Cinco de Mayo @ Mambo House!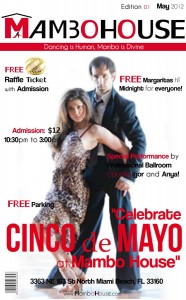 May 5 2012, 10:45 pm
VK Dance
3363 NE 163 St
North Miami Beach, Fl 33160
www.MamboHouse.com
Grand Opening of Mambo House!
Special welcome to everyone to Celebrate Cinco de Mayo Mexican/ Mambo House style…
DJ JoeyG playing the BEST:
* Mambo/Salsa in the Mambo Room!
* Bachata all night in the Bachata Room!
* Free Margaritas til Midnight for Everyone!
* BYOB is OK! (you can bring your own water/drinks)
* Free Parking
Admission $12
(Includes a raffle ticket for an exquisite…elegant… exclusive Jewelry ring by www.JewelryExquisite.com) Mothers Day is around the corner!
Mambo House "Dancing is Human, Mambo is Divine"
Free Parking!
Free Margaritas!
Free Mambo House VIP Membership Cards!
Free Raffle Ticket!