Blue Sky Drive in Hard Rock Rising – 2012 Global Battle of the Bands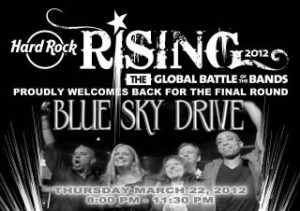 3.22.12, 8 PM
Hard Rock Cafe Hollywood FL
(In the Hard Rock Hotel)
1 Seminole Way
Hollywood, FL 33314
RSVP Online
Thurs. 3.22.12 8:00 PM. The Final event before the Global Voting process.
Three Bands are left to battle it out to move ahead to the global battle of the bands. Only one band will move ahead. After which, final winner will move into the Global battle of the bands where again, one winner will advance to Hyde Park London – Hard Rock Calling to open for Bruce Springsteen.
Show your support for Blue Sky Drive, Community Property, (Last band will be announced on Thurs. 3.15. To complete the final three.