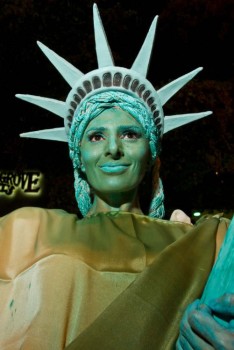 Coconut Grove Adds Color to a Traditionally Red, White and Blue Weekend
Grove Gallery Walk Continues Saturday, July 2
Fourth of July is a holiday synonymous with flags, fireworks and franks on the grill – and now high-end art. Offering a colorfully creative supplement to the traditional red, white and blue weekend is this month's Grove Gallery Walk. Beginning at 7 p.m. on Saturday, July 2, ten galleries will host a night of art, wine and fun while celebrating the ability to take artistic "liberties."
Kicking off the popular patriotic weekend is "AMERICAN ICONS," a solo exhibition by Hernando Alzate at Cristina Chacon Gallery. Showcasing how art can magically revive the emotional experiences connected to legendary figures of our recent history, "AMERICAN ICONS" uses Neo Pop elements to heighten the color, textures and the superimposition of impossible planes, creating worthy scenes of the personages to whom tribute renders. This unique collection from the Colombian artist teaches us that nostalgia can have a side of happiness, filled with energy and vitality. The exhibition runs through August 20.
Special to this month's Grove Gallery Walk are living, travelling sculptures. Making its way throughout the Grove will be a spontaneously moving six-person figure, created by modern dance elements and inspired by an accompanied musician and narrator. The performance art is directed by Out of Africa store owner Trina Collins and begins at 7 p.m. in the Mayfair Promenade.
Two Grove galleries will be celebrating the opening of their newest exhibitions. Honoring a distant national instituton, Rodez Art Gallery will present "Reial Cercle Artistic of Barcelona," an exhibition of works by distiguished members, Joan Abello, Matt Lamb, Pepa Poch, and Josep Puigmarti, of the Royal Artistic Circle of Barcelona; while the Coconut Grove Arts Festival Gallery I hosts "The Art of Gary Longordo," a collection of mixed media scenic portratis and vibrant Rockers seriers by one of the naion's top forensic artists.
Housing the largest collection of Peter Max originals, Max in the Grove will be hosting a silent auction for one of the masters' original pieces in celebration of Independence Day. It will also be exhibiting works by Picasso, Ferjo and Tadeo during the event.
Additional featured exhibitions in this month's walk include AC Fine Art's rare, signed and original large-scale works by Robert Indiana, Tom Wesselmann, Donald Sultan, Roberto Matta and Damien Hirst and Russell Young and "ART-I-TECTURE" by Danish born designer and abreact painter Hans Petersen at the Coconut Grove Arts Festival Gallery II.
Local artist Amy Reshefsky will be featured at FrameWorks Studio gallery. GroveHouse Artists will also highlight local artists by featuring Karen Deilke, alongside entries by the group's open call exhibit "Summer Heat."
Other galleries featured in the Walk include ArtWay 66, Blue Moon Studio of Art, and Dharma Studio.
The Grove Gallery Walk begins at 7 p.m. and continues through 10 p.m. It is free and open to the public. Hors d'oeuvres and refreshments will be made available at participating galleries, while live music can be found at some locations.
Art inspired events such as these are provided by partnering galleries and the Coconut Grove BID. The Coconut Grove BID exists to improve the quality and financial success of the Grove's commercial core. It enhances Grove parking, lighting, sanitation, marketing, and safety, as well as supporting special events.