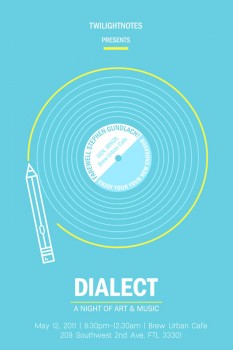 July 7th, 8-12:30
Brew Urban Café
201 SE 2nd Ave
Fort Lauderdale, FL
A Night of Art and Music
Twilight Notes and Freedom Art are proud to present the July edition of Dialect, Fort Lauderdale's Premier art and music event. This month we will be highlighting our love of music through visual art, with each artist contributing works based on their love of sound and music. In addition, Twilight Notes Dj' s will be digging through their vinyl collections and displaying all their favorites, showing off the best of classic album cover art.
As always, we will have Twilight Notes Dj' s rocking the party, with Eric Pamphile bringing his one of a kind blend of funk, soul, and hip-hop, plus special guests JAMS. JAMS is the Dj/Production duo of Esoteric and Damask, who will be celebrating the release and distributing copies of their summer mixtape.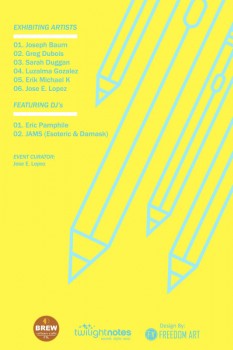 Last but not least, we are using the event as our going away party for Stephen Gundlach, who has been the manager for Brew Urban Café for the last three years, and is now moving to California to finish school and start his career. Come join us to say farewell as we thank him for all his hard work and dedication to our community.
Contributing Artists:
1. Joseph Baum
2. Greg Dubois
3. Sarah Duggan
4. Luzalma Gonzalez
5. Erik Michael K
6. Jose E. Lopez
Performing Djs:
1. Eric Pamphile
2. JAMS (Esoteric and Damask)