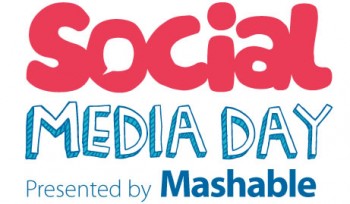 Thursday, June 30 · 6:00pm – 9:00pm
Sugarcane Raw Bar Grill (Midtown)
3252 Northeast 1st Avenue #115
Miami, FL
Facebook Evite.
Hello Friends! PLEASE SPREAD THE WORD! We want to make sure Mashable.com lists MIAMI as on of the Top 10 Social Media Day MeetUp's!!
(via Mashable.com) Join us Thursday June 30th as we acknowledge and celebrate the revolution of media becoming social. A day that honors the technological and societal advancements that have allowed us to have a dialogue, to connect and to engage not only the creators of media, but perhaps more importantly, one another.
It's a day to celebrate the changes in media that have empowered us to stay connected to information in real time, the tools that have enabled us to communicate from miles apart, and the platforms that have given a voice to the voiceless and victims of protest injustice. It's a revolution worth celebrating. Today, we celebrate Social Media Day and we hope you'll join us.
So how do you participate? Being social, of course. You can do this online by tracking the social updates in various ways as listed below, or you can make some connections offline by attending an event near you. There are more than 600+ meetups in 93 countries today with thousands of attendees. As far as we know, there is no official holiday dedicated to social media. We think it deserves a day of it's own, and what better way to celebrate than to connect with your local social media community?
How To Participate in Social Media Day
*Meetup Everywhere Mashable: Sign up to attend an event on the Meetup Everywhere Mashable.
*Watch the live streams worldwide: We'll be updating throughout the day.
*Tweet: Use the #smday hashtag on Twitter. With so many participating, we should be a trending topic on Twitter on June 30. Also, we'll soon be announcing a prize for those that tweet or post to Facebook.
*Add the Social Media Day Twitter theme from TweetyGotBack to your account in support of the day.
*Follow @mashSMday: Follow @mashSMday on Twitter for updates and developments on the celebration.
*Comment via Facebook: Go to Smday.com and leave a comment either promoting your meetup or tell us what you're doing for your event.
*Upload to Flickr: Upload photos to Flickr and tag them with #smday.
Any questions? Tweet us! @sebrusk @alexdc
Or email info@SocialBuzzTV.com
Mashable.com – Social Media Day 2010 – SocialBuzzTV.com [VIDEO] recap from SocialBuzzTV.com on Vimeo.
Video courtesy of SocialBuzzTV.