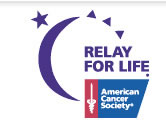 American Cancer Society Relay For Life of Miami Beach
June 11-12, 2:00 pm
North Shore Park
501 72nd Street
Miami Beach Fl 33141
Relayforlife.org/MiamiBeachfl
Fundraiser for the Biggest cause in the world that does not care of race, origin, or color, CANCER. At this event there will be different types of vendors selling Edible and fashionable goods. Lots of activities for the kids and adults and live DJ all night long this event Will open at 6:00pm With the Survivor Walk, Continue throughout the night with the lumenaria ceremony walk at 9:00 and a closing walk at 10:00am.
Fun Activities all night long for kids and adults
Relay For Life is the American Cancer Society's overnight, community event, where teams form, raise money and walk throughout the night, camp out, while enjoying a DJ, entertainment, food, fun and camaraderie. Cancer Survivors are the shining stars of Relay For Life; we celebrate their courage in the fight. The Candle Lighting Luminaria Ceremony is the highlight of Relay, as hundreds of candles will encircle our walking track each one purchased in honor or in memory of a loved one who has battled cancer.
It's All Around Town…
The Relay For Life is coming to Miami Beach, June 11-12, 2011! Teams are forming from local companies, businesses, schools, churches, hospitals, clubs & organizations. During the 2010 fiscal year, the Miami Dade Community raised an estimated $1,672,000 towards the fight against cancer!!!
And You Won't want to Miss it!
The Relay For Life offers everyone a chance to make a difference in the fight against cancer, to raise funds for American Cancer Society Research, Education and Patient Services in your community. And, most importantly it is a fun time, with lots of entertainment and activities!