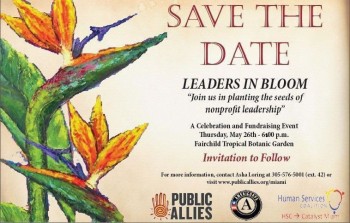 Public Allies Miami is hosting its annual fundraiser "Leaders in Bloom"
May 26, 2011, 6 p.m.
Fairchild Botanic Tropical Garden
Coral Gables , FL
www.catalystmiami.org
www.publicallies.org
The flourishing gardens will set the stage for this fun community event.
$25.00 Tickets may be purchased at the door or via Paypal.
Public Allies Miami is a community service and leadership training organization, and a program of The Human Services Coalition/Catalyst Miami. Public Allies Miami's goal is to improve the Miami area by placing young people in its non-profit organizations for 10 month apprenticeships. These young people work to develop non -profit leadership skills while increasing the capacity of Miami's non- profit organizations. Public Allies Miami believes that everyone can lead while making a difference.
This event will raise funds to continue to provide social services to Miami residents who need them most, in the areas of healthcare, affordable housing, afterschool programming; tutoring, youth mentoring and environmental education. At the event Public Allies and Alumni will speak about their nonprofit and leadership development experience, as well as the importance of serving their community. Money raised at the event will go directly to the costs of sponsoring the Allies and help the organization continue to change our community for the better.