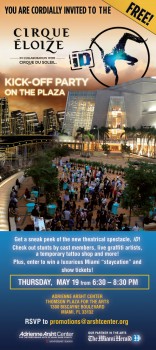 May 19, 2011
6:30pm to 8:30pm
Adrienne Arsht Center
Thomson Plaza for the Arts
More Information.
RSVP: promotions@arshtcenter.org
Join us for this FREE event to celebrate the new theatrical summer spectacle, Cirque Éloize iD!
Live Graffiti Art! Temporary Tattoo Shop! Merchandise Giveaways
The first 50 guests get FREE cupcakes from Sugar Yummy Mama
Live Stunts by the iD Cast
Plus, enter to win a luxurious Miami "staycation" and show tickets!
FREE and Open to the Public
On May 19, the streets of Downtown Miami will be pulsating with an extraordinary blend of music, electrifying special effects and a sampling of incredible acts from Cirque Éloize's newest show "iD." Against a backdrop of video footage from the show, audiences will be taken on a breathtaking voyage known as iD as they get a sneak peek of the Trampo-wall and witness acts of great of strength and balance that include the Cyr wheel, a bike stunt and hand-to-hand acrobats. Live from the Thomson Plaza for the Arts, outside the Adrienne Arsht Center, South Floridians are invited to experience this unique spectacle from 6:30 p.m. to 8:30 p.m. before its official premiere on July 26. This event is free and open to the public and is appropriate for all ages.
"South Florida's diverse community and booming cultural scene make it the ideal location to present iD," said John Richard, President and CEO of the Adrienne Arsht Center. "There is no doubt in our minds that it will appeal to Miami audiences of all ages and we look forward to convening the community to offer them a sneak peek at this terrific spectacle."
Primary Flight, a graffiti artist company, will be creating a live graffiti mural. A "tattoo" shop will also be on site for all those inspired by the surrounding artwork and design features to get a temporary tattoo. Attendees will be able to enter to win a staycation at the Kimpton's EPIC Hotel and two tickets to the show this summer. The first 50 guests will receive free cupcakes from Sugar Yummy Mama. Those in attendance can capture their entire adventure, in the moment, post it to Facebook and take home a print through Funclick photo booth. iD merchandise giveaways including t-shirts, beach balls and posters and Adrienne Arsht Center swag will be available.
In a tale of merging and emerging identities, iD explores the concept of individuality, personal characteristics and their ability to unite as a clan. The show is a spectacular, mind-blowing fusion of new theatrical circus, urban dance, contortionists and a fearless stunt biker for all to enjoy. Created by the great contemporary cirque director JEANNOT PAINCHAUD, iD will open for a limited two-week engagement at the Adrienne Arsht Center.
Adrienne Arsht Center presents
Cirque Eloize iD
July 26 – August 7, 2011
Ziff Ballet Opera House
Adrienne Arsht Center
1300 Biscayne Boulevard, Miami, FL 33132
Tickets: $25 – $55; VIP Tickets available for $75
For reservations, visit www.arshtcenter.org or call the box office at (305) 949-6722.