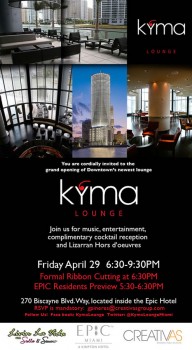 The Grand Opening Of Kyma In Downtown Marks A New Standard In South Florida
Friday, April 29,, 2011 from 6:30PM-9:00PM
Kyma Lounge inside the Epic Hotel & Residences
270 Biscayne Boulevard Way
Miami, FL 33131
RSVP Required: gpineres@creativasgroup.com.
Guests can expect an evening filled with VIPs, celebrities, cocktails, and music as Kyma Lounge plans to take the Miami nightlife scene by storm.
Kyma Lounge is ready to unveil itself with their much awaited grand opening April 29,, 2011. The grand opening represents a breath of fresh air for local Miami professionals as Kyma Lounge is ramping up to be Downtown's go to spot for the movers and shakers that shape the Magic City. Kyma will represent Miami's dynamic cultural make up as it borrows hints of Spanish and Italian bar/lounge concepts to make this a truly unique concept in South Florida. The new spot will open this month.
Located in the Epic Hotel and Residences in Downtown, Kyma Lounge represents what the outgoing professional deserves and expects in South Florida. Kyma Lounge is geared to be the "it spot" in Miami Downtown nightlife as it sits ideally situated on the Miami River with a breathtaking view. The structure originally designed by nationally renowned Telesco & Associates, the chic lounge boasts 30ft ceilings, LED lighting, circular bar, flat screen TVs, custom lighting fixtures and custom lounge furniture. The second floor which features its own bar boasts a more intimate setting. One of the elements that set Kyma Lounge apart is that guests can arrive either by car or boat which makes Kyma an ideal pit stop for cocktails if boating in the downtown area. The outdoor terrace/dock is the perfect spot to enjoy cocktails and bites while appreciating Miami's most impressive high-rises that flank the Miami River. Aside from offering a great happy hour and after hours get away Kyma will offer menu items to sooth the appetites of Miami's most demanding foodies.
Kyma Lounge's menu options are based around the Spanish Pintxos and Tapas concept. Not to be confused with the Latin American "pinchos," the Spanish Pintxos are typical in the Basque region of Spain and are usually eaten in bars or taverns as a small snack while socializing; thus, they have a strong socializing component, and they are usually regarded as a cornerstone of Basque Culture and Society. Pintxo are related to Tapas but are usually larger and have a spike "Pintxo" driven through them. This concept fits in perfectly for the professional who is looking to close a business deal over drinks while pleasing his/her palate in a casual yet refined setting. Kyma Lounge will also be open in the mornings to cater to those who would like to overlook the soothing water ways while sipping on an espresso and nibbling on a pastry or croissant to start the work day. As the Sun goes down Miami's night life takes off and Kyma Lounge will be in lock step with Miami's ever changing dynamic nightlife scene.
Kyma Lounge plans to offer night life programing to rival and go above and beyond anything in the downtown area. Located inside the high end Epic Hotel and residences and sharing the building with other award winning entities Kyma Lounge is looking to cater to an upscale and sophisticated clientele who is looking for exclusivity when enjoying the infamous Miami nightlife. Kyma Lounge will offer a unique cocktail list including a one-of-a kind signature martini list. Delicious bites, great music, surrounded by beauty, Kyma Lounge is ready to set a new standard in Miami. Conveniently located on the mainland, this visually-captivating space will cater to the active professional, corporate and social scene.
Creativas Group Inc. provides public relations and marketing counsel to South Florida-based businesses, nationally recognized special events and leading non-profit organizations. For more information, please log onto www.creativasgroup.com or email info@creativasgroup.com.