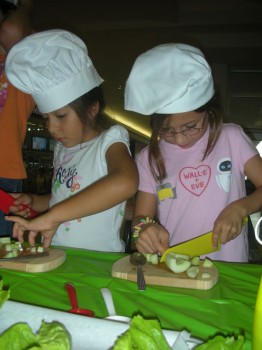 Dadeland Mall Cooks Up Family Fun With Simon Kidgits Club's Super Duper Mini Chefs
Friday, May 20, 6:30 p.m. to 8:00 p.m.
Dadeland Mall (Saks Fifth Avenue corridor)
7535 N. Kendall Drive, Miami, FL 33156
Free to Kidgits Club members
Fun-filled culinary event will collect food items for Feeding South Florida
Dadeland Mall invites children of all ages to roll up their sleeves and explore the fun side of food with hands-on learning activities during the Simon Kidgits Club's Super Duper Mini Chefs event. Kids will enjoy a nutritional magic show by Amy the Magic Chef where they will learn table manners and good eating habits. Kids will also color their own chef hats and receive an apron to help them make sweet treats.
The Simon Kidgits Club will transform Dadeland Mall into a magical kitchen as kids cook up a menu including:
Dip fresh strawberries in delicious chocolate with Godiva Chocolatier
Make chocolate chip cookie sandwiches with Nestle Toll House Café
Create healthy veggie rolls with Sushi Maki
Learn how to roll dough and make a pizza pie with Cozzoli's Pizza
Decorate mini cupcakes with Candy in a Cupcake
Make desert crepes with Banna Strows
Create yogurt parfaits and sample chicken nuggets with Chick-Fil-A, including a special visit by the Eat More Chikin® Cow
Make mini ice cream sundaes with Haagen Daz
Learn how to twist pretzels with Auntie Anne's and sample on-the-go, famous pretzel stix
Keep hands clean at the Bath & Body Works antibacterial soap station
Kids are also encouraged to bring non-perishable food items to be donated to Feeding South Florida. Florida Blue is a sponsor of all Dadeland Mall Kidgits events.
For a chance to win a $1,000 shopping spree, text MALL36 to 74666 or register your email address at Guest Services.