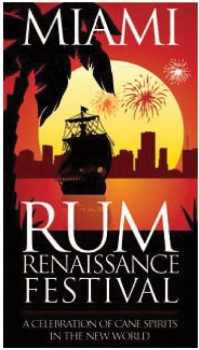 The Miami Rum Renaissance Festival is the largest worldwide gathering of rum enthusiasts, collectors and industry professionals in the western hemisphere. This premier international rum festival is a weeklong celebration filled with events that highlight the fine art of distilling, maturing and blending fine cane spirits.
Tickets to the Grand Tasting Event are available for $25 per day. VIP passes that grant full access to all VIP rum parties and grand tastings are available online for $250 each.
www.rumrenaissance.com.
The Deauville Beach Resort, 6701 Collins Avenue, is offering discounted room rates to Rum Renaissance attendees, starting at $150 a night. To reserve this special rate, travelers must book by March 27, 2011. www.deauvillebeachresort.com.
Miami Rum Renaissance will also be responsible for introducing several premium rums to the market by offering sneak previews and worldwide debuts.
Sponsored by more than 40 leading rum brands and hundreds of rum products, the event will offer guests a global spectrum of the world's best rums. Participants will learn about rum history, worldwide distilleries, the families and the brands that have shaped the rum industry into what it is today.
The weeklong festivities will kick off on April 25 and will culminate on May 1. Miami Rum Renaissance events include a Zombie Jamboree celebration, exclusive evening VIP parties, the annual RumXP competition and awards, as well as celebrity seminars, workshops and cocktail competitions at the Grand Tasting Event and Island Lifestyle Showcase. The Grand Tasting Event and Island Lifestyle Showcase will be hosted by the famous The Deauville Beach Resort on Millionaire's Row in Miami Beach, whose celebrity guests have included The Rat Pack and The Beatles.
Zombie Jamboree
April 25 (5-7 p.m.)
Mai Kai / 3599 N. Federal Hwy., Ft. Lauderdale, FL / 954-563-3272 / www.maikai.com
Zombie Jamboree will kick off the weeklong festival events by celebrating the infamous "Zombie Cocktail", first created by tiki legend Don The Beachcomber in the 1930s. This event will explore the history of the concoction and will include tastings of historical and contemporary variations of the iconic tiki culture libation.
Rum VIP Parties
April 26-29 (Time TBD)
Exclusive rum-themed VIP parties will be hosted each night by premier rum sponsors at elite venues around Miami and Miami Beach. Tickets are available online for $250 per person and will grant full access to all exclusive VIP parties and the grand tasting events.
Rum XP International Tasting Competitions
April 27-29
Rum XP International Tasting Competitions Members of the International Rum Expert Panel, known as the RumXPs, consist of several dozen official rum judges from around the world. The RumXPs will be secluded in a private tasting room to evaluate more than 120 nominated spirits during a blind tasting competition taking place over a three day period. The results of the RumXP awards will be announced at the end of the festival.
The Grand Tasting.
April 30-May 1 (2-8 p.m.)
The Deauville Beach Resort
The Grand Tasting Event is the main celebration of the Miami Rum Renaissance Festival and welcomes guests to explore and discover more than 100 cane spirits from the Caribbean and beyond with tastings and seminars. This two-day event will be hosted in the Richelieu Ballroom at The Deauville Beach Resort.
The Island Lifestyle Showcase is a new addition to this year's Miami Rum Renaissance Festival and will feature a two-day schedule of cocktail competitions and entertainment. The Island Lifestyle Showcase will be held in the LeJardin Theatre at The Deauville Beach Resort and will also offer laidback island lifestyle products including a treasure trove of island fashions, arts, crafts, tiki collectables, home furnishings, travel opportunities and more.
Rum Sponsors: Experience the world's best rums, including 10 Cane, Abuelo, Appleton, Atlantico, Bacardi, Banks Five Island, Barcelo, Barrilito, Botran, Brugal, Cachaça Poesia, Caldas, Cartavio, Chairman's Reserve, Cockspur, Cruzan, Denizen, Diplomatico, DonQ, Dos Maderas, Dzama, El Dorado, Flor De Caña, Leblon, Matusalem, Montanya, Mount Gay, Palo Viejo, Plantation, Pyrat, Ron Llave, Ron Millonario, Rums of Puerto Rico, Seven Tiki, Sailor Jerry, Santa Teresa, Siesta Key Rum, Skipper Demerara Rum, Vizcaya, Zacapa, Zafra, Zaya and more.