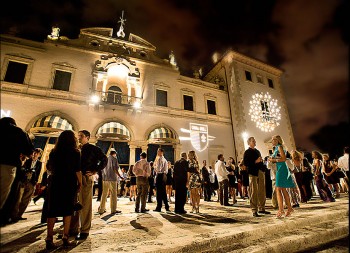 The Vizcayans to Host 14th Annual Evening Under the Stars
April 29, 2011
Vizcaya Museum and Gardens
3251 South Miami Avenue
Miami, 33129
Attendees must be 21 and over and should dress to impres. The event takes place rain or shine. All proceeds beneft The Vizcayans' mission to support Vizcaya Museum and Gardens. Please visit www.vizcayans.org to purchase your tickets or renew/upgrade your membership. Tickets are $75 for members and $100 for non-members for advance purchase; the night of the event, they are $125 at door. For additional information please call 305-856-4866 ex: 3.
The Vizcayans , a non-proft that works to protect, preserve and promote South Florida treasure, Vizcaya Museum & Gardens takes their annual spring party, Evening Under the Stars, to new heights on Friday, April 29th, from 7:30 to 11 PM.
This rare opportunity to tour the historic house and gardens by night and enjoy food, wine and enter- tainment amidst a chic cocktail atmosphere, takes a royal turn by toasting the wedding of the century of Prince William and Kate Middleton and showing it on a large screen all night long. Guests are en- couraged to make their own memories of the Royal Wedding day!
Also showing are the latest spring fashions from Hugo Boss Orange – a colorful, impressive collec- tion of everyday wear, business-appropriate cloth- ing and accessories.
Presented by LINCOLN and Stella Artois, with wines from Anacapri Italian Cuisine & Market, beer from Stella Artois and food by Thierry's Catering, the free-fowing evening features an assortment of festive activities including light food, drinks , fashion and dancing with DJ Crunchtime. Evening Under the Stars is star-powered by hosts NBC Miami anchor Pam Giganti and NBC Miami reporter Roxanne Vargas.
A Silent Auction gives participants additional opportunities to beneft The Vizcayans and take home very special offerings. Striking the fancy of sports fans, memorabilia autographed by Dwyane Wade, Joe DiMaggio and other heroes is up for grabs. Music lovers can make a play for autographed guitars from The Rolling Stones, Bruce Springsteen and Justin Bieber. Got the travel bug? Destinations like New York's Fashion Week, LA's Grammy Awards and relaxing resorts await. And for the adventurous, cap- ture the imagination with priceless experiences like fying with a fghter pilot or attending a round of the Masters Golf Championship!
The Vizcayans Vice President and Event Chair Leslie Bowe promises "an extraordinary night for all. What better way to celebrate the history-making Royal Wedding and the natural beauty of South Flori- da's most breathtaking historic house and gardens than an evening of food, fashion and luxury under the stars that benefts historic Vizcaya?" Bowe concludes.
About The Vizcayans: The Vizcayans engages broad participation in the preservation and advancement of Vizcaya Museum and Gardens as an accredited museum and a National Historic Landmark through fnancial support, advocacy and other activities.
About Vizcaya Museum and Gardens: Vizcaya Museum and Gardens is a National Historic Landmark that preserves the Miami estate of agri- cultural industrialist James Deering to engage our community and its visitors in learning through the arts, history, and the environment. Contact: Jan Idelman, 954-294-3777, jidelman@bellsouth.net