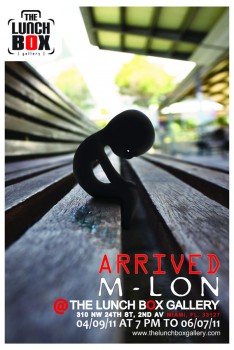 April 9, starting at 7:00 p.m.
The Lunch Box Gallery
310 NW. 24th St
Miami, FL 33127
Casual. Wine, cheese & crackers.
The Lunch Box Gallery is pleased to announce its new show "Arrived" by emerging Venezuelan artist, painter and illustrator M-Lon (Miguel Gonzalez) on April 9, 2011 at 310 NW. 24th St. Miami, FL 33127, starting at 7:00pm.
"Arrived" gathers 18 photographs intervened with digital illustrations (mixed media), where the artist combines photography with the use of a WACOM digital pen, thus giving life to fascinating images that equally share the participation of both reality and fantasy.
This series is born by the need to awaken reflections about our environment, by means of the visit of imaginary beings that interact with our context. These entities star in scenes of urban and natural encounters, particular or general ones, within a reality which we would consider they don't belong to, but nevertheless where they try to find their own space.
By penetrating into an unknown society, these beings attempt to discover our world through innocent frolicking; and the behavior that sometimes seems vile or spiteful, is nothing more than a wild and instinctive interaction caused by not knowing the conduct codes of our world. In fact, these are interactions where the process of exploring turns them into personifications of feelings and moods in their maximum state of purity; emotions we can somehow relate to.
These approaches, many times nostalgic and curious but always naïve, along with their visions confronted with joy or lack of it when entering our space, are an invitation to discover, imagine and reconsider the world that surround us.
"Arrived" reflects on M-Lon's idea that when we truly come close and stop to observe, admire and understand that all these elements, natural or man-made, mean something to someone, it is in that precise moment when we will begin to take care, enjoy and respect it all.