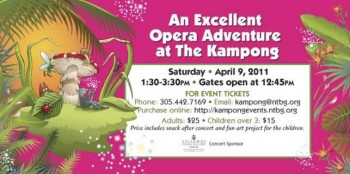 Music Returns to The Kampong on April 9!
4013 Douglas Road
Coconut Grove
More Info.
Kampong Kids Music Series – April 9, 2011
Concert chair, Vivianne Swietelsky, has organized two wonderful concerts featuring vocalists from the Manny Perez Vocal Studio. Designed for children in preschool and elementary school, the Opera Adventure includes selections from The Little Mermaid and Phantom of the Opera. This afternoon performance will open young eyes to the magic and wonder of opera, drama and music. The whole family will enjoy the concert, a fun craft activity, and simply playing in the garden.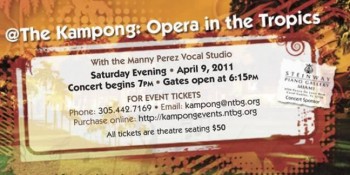 @The Kampong: Opera in the Tropics
Accompanied by Maestro Daniel Daroca, vocalists from the Perez Vocal Studio will perform a rich tapestry of music, including selections from Don Giovanni, Lucia di Lammermoor and Barber of Seville, among others. "We've chosen an exciting array of operas that will delight and entertain," says Vivianne Swietelsky, concert chair. "From celebrated masterpieces to rarely-performed gems, the evening promises to be a one-of-a-kind performance in the tropical surroundings of The Kampong."
We are looking forward to a special day of music at The Kampong!
To be removed from this mailing list, please click here.