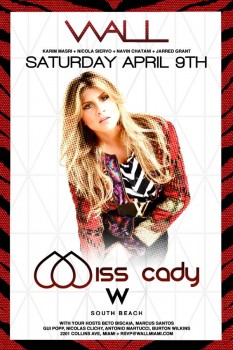 Tuesday, April 5 – Saturday, April 9
11:00 p.m. – 4:30 a.m.
WALL Miami
2201 Collins Avenue
Miami Beach, FL 33139
305.938.3130
www.wallmiami.com
WALL Miami and Karim Masri, Nicola Siervo, Navin Chatani and Jarred Grant present the entertainment lineup for the week of April 4, 2011, when the exclusive lounge inside W South Beach hosts a number of local DJ favorites. Expect the standard mix of scenesters, models, decadent debauchery and unannounced celebrity sightings.
Tuesday, April 5
Favela Beach with Tommy Ryk & DJ Ruen
Thursday, April 7
Guest hosts Michael Capponi & Michael Martin bring you DJ Sinatra
Friday, April 8
Miami's Mr Mauricio with a closing set by Triarchy
Saturday, April 9
Miss Cady's Brazilian touch will set the vibe
To reserve a table email rsvp@wallmiami.com.
A throwback to carefree decadence, boutique lounge WALL, at W South Beach Hotel & Residences, has proven to be an impenetrably exclusive boite in the heart of South Beach. WALL is located at 2201 Collins Avenue, Miami Beach, Florida, 33139. Operating hours are Tuesday, Thursday, Friday and Saturday evening from 11:00 p.m. until 4:30 a.m. To make table reservations please call 305.938.3130. For more information please visit www.wallmiami.com.