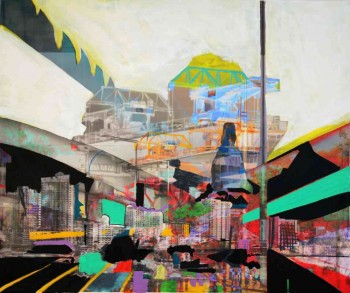 Dramatic Bfa Exhibition Highlights Cutting-Edge Art Work From New World School Of The Arts College Graduating Class Of 2011
Opening reception takes place on Saturday, April 9, 7:00 pm -10:00 pm.
Cisneros Fontanals Art Foundation
1018 N. Miami Avenue
Miami, FL 33136.
The exhibition is free and open to the public.
It will remain open through Saturday, April 30, 2011. To view after April 9, please call 305.237.3620
New World School of the Arts [NWSA] presents POST… The 2011 BFA candidates' visual arts exhibition. NWSA has fostered a legacy of graduates that excel in the Visual Arts; becoming prestigious figures in both the local and international art world, such as Hernan Bas, Bert Rodriguez, and Jen Stark.The 22 BFA candidates of 2011 have continued to push the barriers, culminating in a vivid and spanking-new array of work that ranges from sculpture, photography, painting and interactive installation, to graphic design work and video art.
"We are proud that our graduates are tireless in finding new and immediate ways to contribute not only to the burgeoning Miami art scene but their community; donating artwork for humanitarian causes and participating in numerous fundraisers" stated Maggy Cuesta, dean of visual arts at NWSA. "Many of them have already exhibited and sold work from prominent galleries in Latin America and the Caribbean, as well as in Miami Art Museum, Cisneros Fontanals Art Foundation and Art Basel, Miami Beach."
2011 Exhibiting BFA Artists: Nicole Burko, Franky Cruz, Karla R. Davila, Gustavo González, Mauricio Gonzalez, Nanjoo Hong, Stacye Jones, Herman F. Kaizedo, Jessie Laino, limchoy lee, Inga Loyev, Veronika Lugo, Melissa Mastroeni, María Fernanda Mayorga, Denisse Monge, Natalia (Macky) Ortelli, Francis Pisfil, Colin Sherrell, Dominique Thomas, Sam Ubinas & Zonia Zena.
CIFO, the Cisneros Fontanals Art Foundation, is a non-profit organization founded in 2002 by Ella Fontanals Cisneros and her family, to foster cultural and educational exchange among the visual arts. In six years CIFO has become a dynamic institution promoting cultural exchange through its exhibitions and events.
New World School of the Arts was created by the Florida Legislature in 1984 as a center of excellence in the performing and visual arts. It is an educational partnership of Miami-Dade County Public Schools, Miami Dade College and the University of Florida.
More information about this show at 305-237-3620 or at nwsa.mdc.edu.
By NWSA Artist Gustavo González