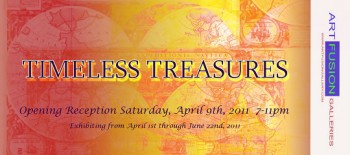 Timeless Treasures Opening Reception
Saturday, April 9th, 7-11 pm
Art Fusion Galleries
1 NE 40th Street, Suites 3, 6, 7
Miami, FL 33137
Art Fusion Galleries is proud to present our second exciting exhibition of the year 2011, tilted "Timeless Treasures". This exhibition features 32 emerging to mid-career contemporary artists from across the globe. The exhibit exposes the intricate diversity of photography and a voluminous array of original paintings and sculptured works that are sure to add some color to your spring. Be sure to highlight this great event on your calendar.
Live music and refreshments will be served. For more information please call 305.573.5730 or email our gallery at info@artfusiongallery.com.